Sustainability
Approach to Sustainability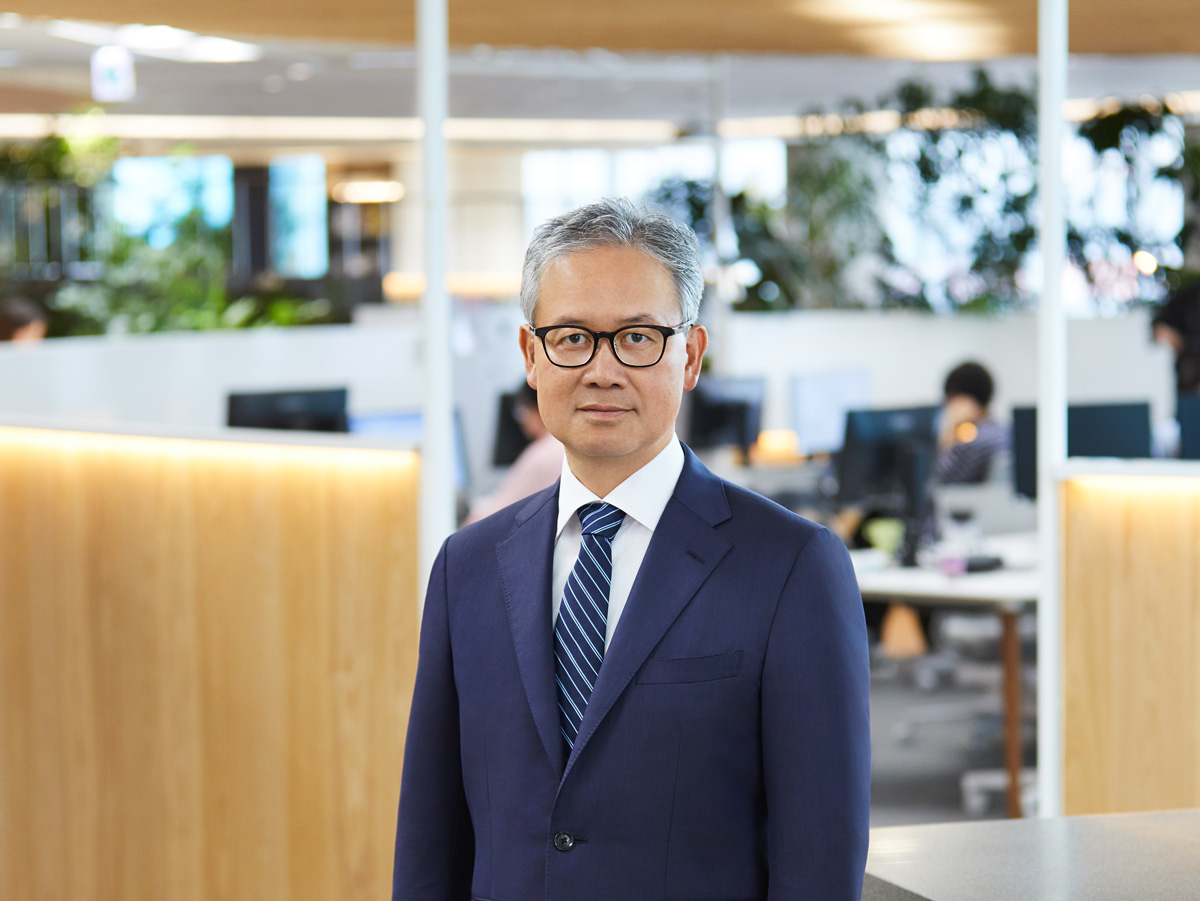 Arinobu Soga Director, Representative Executive Officer, Executive Vice President & Chief Governance Officer, Dentsu Group Inc.
Reimagining the role of marketing to place people at the heart of the net zero transition
In 2021, we launched the 2030 Sustainability Strategy for dentsu, recognizing the role we play in society and our ability to influence human and societal behavior. In the context of the polycrisis, including growing awareness of the role of human environmental damage, geopolitical unrest and rising inequality, this responsibility has never been more apparent.
Our priority focus areas—climate action, sustainable consumption, diversity and inclusion, data privacy and security—continue to resonate. We can help our clients to navigate disruption and build a more sustainable and inclusive society, designed around people. To do that we need to prioritize our talent, and this is reflected in the increased importance of human capital development to our stakeholders. Dentsu has placed this opportunity and our sustainability strategy at the heart of our Value Creation Model. In 2022, we were proud to see our 72,000 creatives and innovators rise to this challenge, driving positive social impact across the world. Together we hope to realize our vision of creating people-centered transformation that shapes society.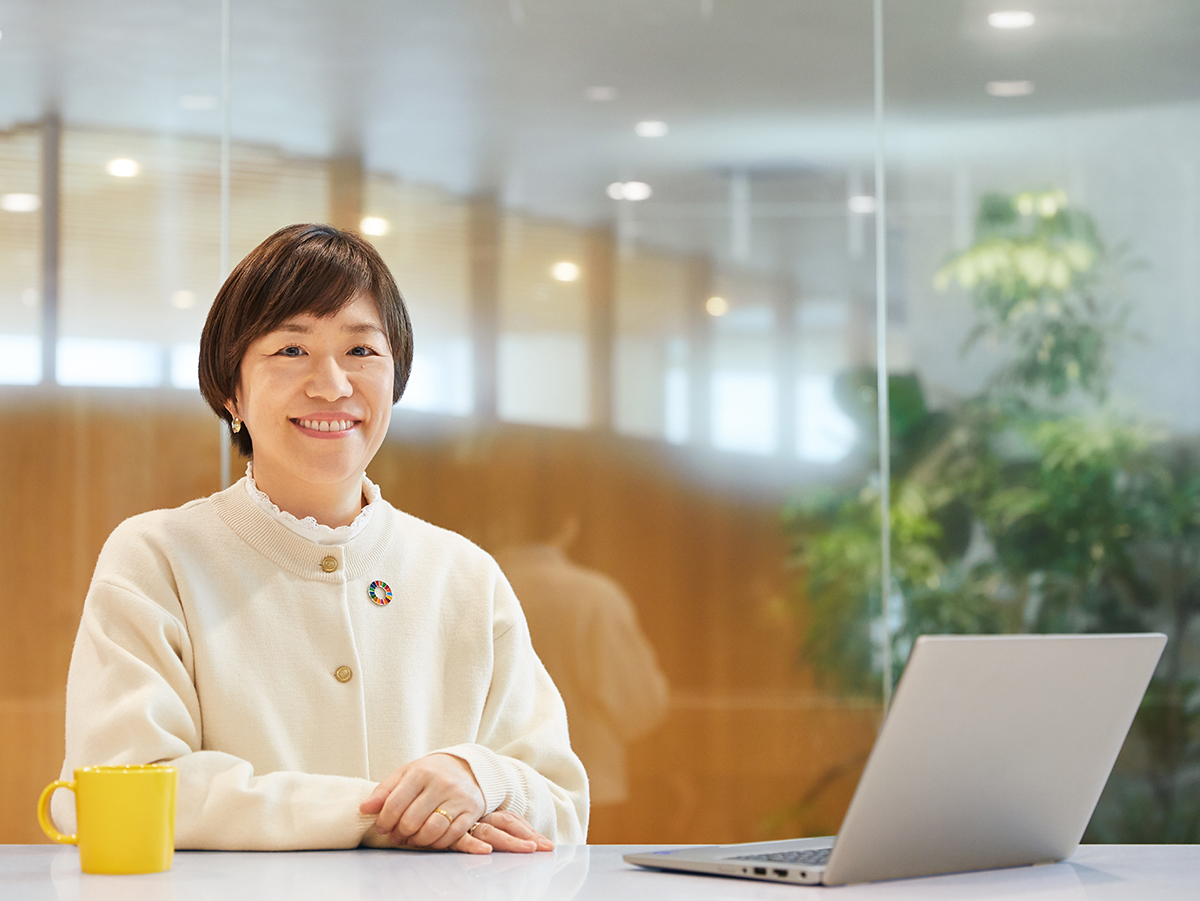 Yuko KitakazeChief Sustainability Officer,
dentsu Japan
We create a sustainable future
We aim to inject positivity into the world, and we look to a sustainable future, brought about through people-centered transformations co-created by human creativity and technology. Value added in such ways is founded in Diversity, Equity & Inclusion, and through these we bring about diverse perspectives, equal opportunity and empowerment, which create our competitive edge. One of our key priorities, going forward, is to grow a sound corporate culture that shines with integrity.
We will also contribute to the promotion of sustainable consumption by leveraging our long-cultivated insights on "people." Most people know that humanity will not survive without the global environment, but they are not ready to change their consumption behavior. Life, the cliché goes, is too short, and our very presence in the here and now should be considered a gift. A gift that, in order to be passed down to future generations, requires us to adopt an altruistic mode of thinking—to detach ourselves from the lavishes of me and now and imagine a future for others.
In our daily operations too, if we could take on more work not for ourselves but for the benefit of others, this is something people can relate to and support—this is sustainable. To that end, we will form in-house and external teams, united by the same ethos, and work as one toward a vibrant society where people enjoy a fulfilling life.
Sustainability at dentsu
The Value Creation Model which integrates sustainability has been formulated to enable dentsu to respond to the key challenges and achieve sustainable growth.
For more detail, please visit our Philosophy page.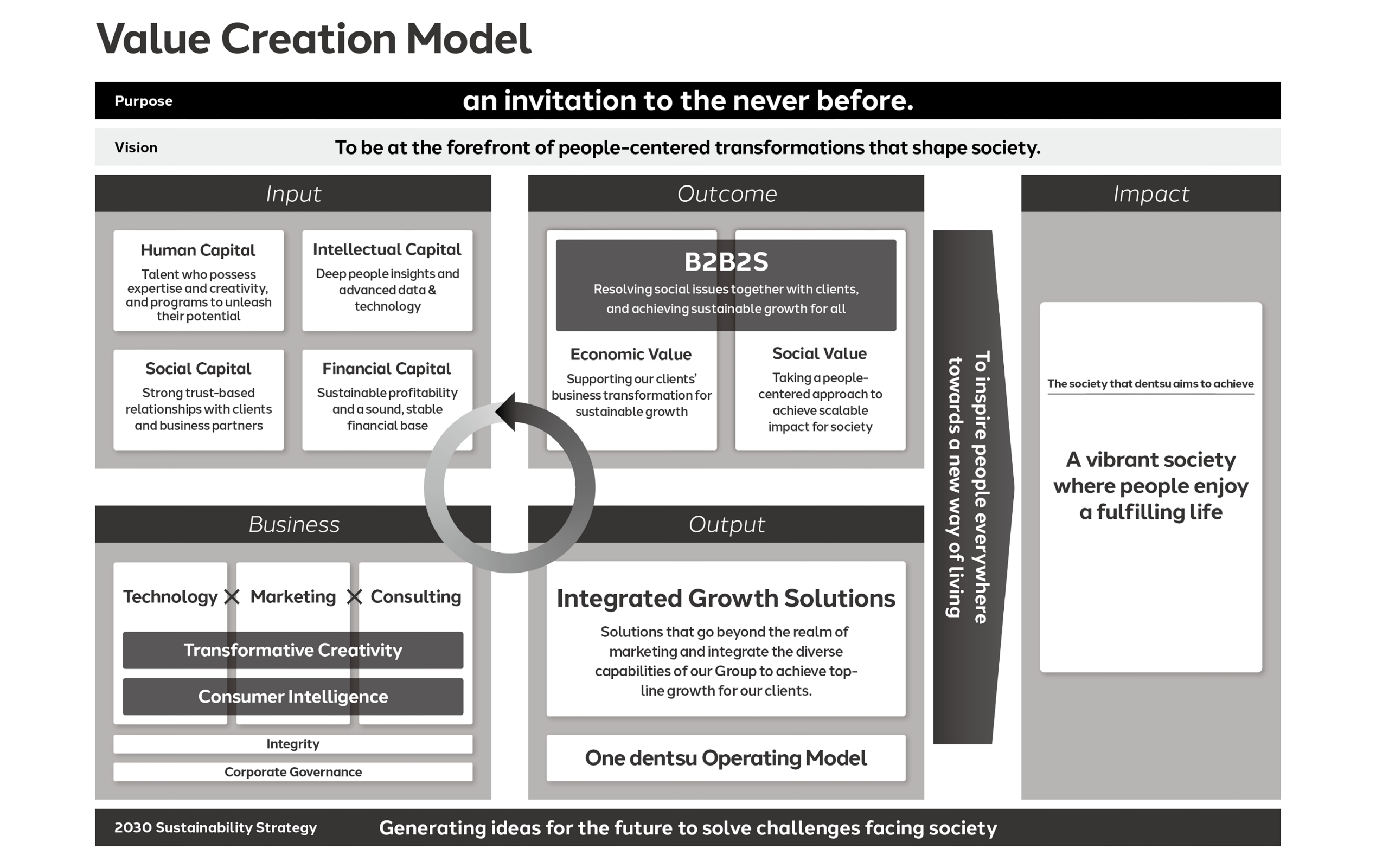 Group Sustainability Committee set up to boost sustainability strategy
(from January 2023)
With the Group's transition to a global management structure led by the Group Management Team in January 2023, we established a Group Sustainability Committee directly under the Group Management Board. Arinobu Soga, Representative Executive Officer, Executive Vice President & Chief Governance Officer, Dentsu Group Inc., is the committee chair.
The committee comprises 12 members with diverse expertise and regional backgrounds, and meets four times a year to monitor from various perspectives the progress against our goals to promote our sustainability strategy. Since 2022, ESG performance indicators have been included in the Group's executive compensation structure.
ESG targets in the Medium-Term Management Plan
46%

absolute reduction in CO₂ by FY2030

(against our FY2019 baseline)

100%

renewable energy by FY2030

(in markets where available)
Improvement in employee engagement score

Diverse, equal & inclusive workforce;

Female leaders* to reach

45%

by 2030
* "Leaders" are defined as directors and executives of the companies across the Group, and the 45% target is set with a 5% flexibility to support diverse perceptions surrounding gender identity and incorporate regionality.
Participating Initiatives
In order to achieve its purpose and vision, dentsu participates and collaborates in various initiatives that aim to realize an equitable and sustainable society.
In addition to the above initiatives, dentsu is also a Strategic Partner of the World Economic Forum.
Efforts Recognized by External Agencies
Dentsu actively engages in corporate sustainability initiatives and has received recognition and accreditations from a variety of external agencies.
Dentsu Integrated Report 2023
Since 2016, we have combined annual reports and sustainability reports to publish integrated reports.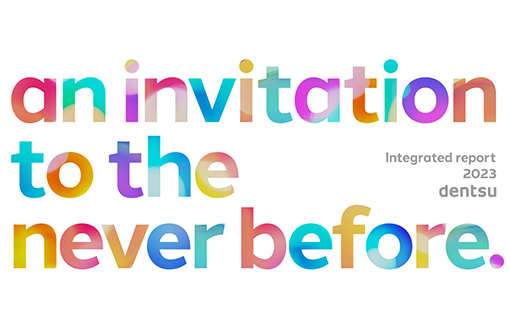 Dentsu for a Sustainable Society
At dentsu we are conscious of the role we play in society and our ability to deliver social impact at scale. We actively encourage efforts to address the SDGs and other social issues throughout the entire group. Our goal is to strengthen ties with our stakeholders and create new value through the actions of every single employee.