Stakeholders
"To be at the forefront of people-centered transformations," dentsu is collaborating with a wide range of stakeholders to achieve a future in which society, companies, and consumers can all thrive together.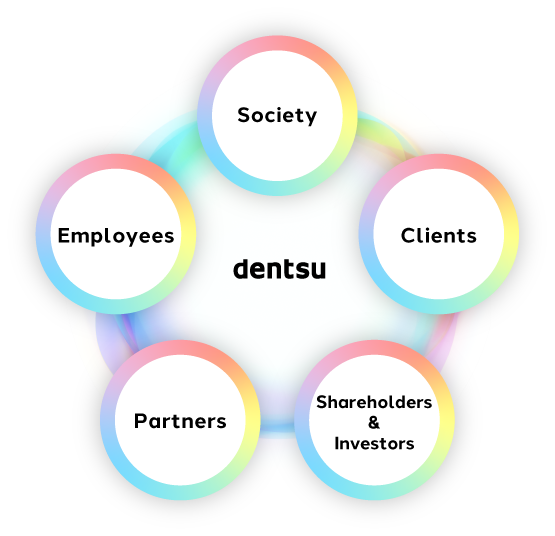 Society
Our mission is to continue creating value for society and consumers. We work with government agencies, municipalities, local communities and NPOs/NGOs to solve social issues through our business. We also create a positive impact on society through social activities, including focusing on the development of future generations.
Clients
We contribute to clients' business growth as their true partner, through the optimal combination of transformative creativity, consumer knowledge and expertise in the application of Customer Transformation & Technology. Further, by collaborating with clients, we help resolve social issues and create value for society over the medium to long term.
Shareholders & Investors
Achieving sustainable growth, enhancing corporate value as well as the creating of value for all our shareholders over the medium to long term while pursuing sound financial position and fair disclosures.
Partners
We ensure fair, impartial, and ethical business practices as set forth in the Dentsu Group Code of Conduct. We also address industry-wide issues by collaborating with business partners, and build sustainable supply chains that contribute to clients and society as a whole.
Employees With their range of talents and skills, our people around the world are the source of our creativity, which is essential if the Group is to realize its purpose. The Group provides the necessary environments and opportunities to enable our people and the Group to grow together by realizing the potential of each individual.