Dentsu Releases "dentsu Integrated Report 2023"
Jul 31, 2023
IR-Voluntary Disclosure
Management
Introducing new materiality and Value Creation Model based on the Group's purpose and vision
Dentsu Group Inc. (Tokyo: 4324; ISIN: JP3551520004; President & CEO: Hiroshi Igarashi; Head Office: Tokyo; Capital: 74,609.81 million yen) has published the "dentsu Integrated Report 2023" (English), which is now available on the Group website.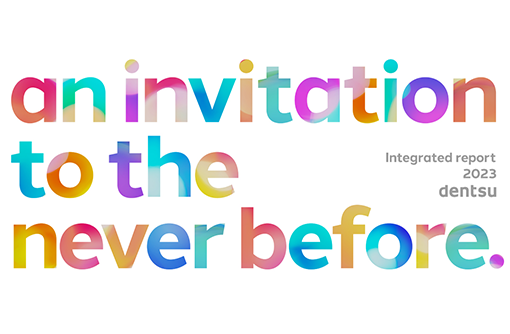 URL:
https://www.group.dentsu.com/en/sustainability/common/pdf/integrated-report2023_all.pdf
(PDF, English, 11.7MB)
The purpose of this report is to provide all stakeholders with a report on dentsu's business results for the fiscal year ended December 31, 2022 as well as an update on the progress of the transformation that began in 2020 with a comprehensive review of the business operations. The report also serves to deepen stakeholders' understanding of dentsu's Value Creation Model and business.
2023 marked the launch of One dentsu, a new management framework aimed at accelerating business transformation and promoting management efficiency across the Group in tandem with its active efforts to strengthen corporate governance and ensure compliance. Messages from the Chief Governance Officer (CGO) and Chief Culture Officer, positions newly established as part of these efforts, are also included in this report.
In addition to the Integrated Report and the Financial Report, this year dentsu also published the ESG Data Book and the TCFD Report, which contain detailed ESG data for the Group. The Japanese edition of the reports are scheduled to be released in mid-August.
URL:
Financial Report
https://www.group.dentsu.com/en/ir/common/pdf/2023_finance.pdf
ESG Data Book
https://www.group.dentsu.com/en/sustainability/common/pdf/esgdatabook2023.pdf
TCFD Report
https://www.group.dentsu.com/en/sustainability/common/pdf/TCFDreport2023.pdf
<Main contents of the Integrated Report 2023>
Newly formulated materiality and value creation model
URL: https://www.group.dentsu.com/en/philosophy/value-creation-model.html
Messages from CEO, CGO, CFO and other members of management
Messages from Outside Directors
Diversity, Equity & Inclusion policy
People strategy to "unleash the power of our people"
Effectiveness of governance
Compliance and cyber security policies
Sustainability initiatives and achievements
Case studies of solutions provided to clients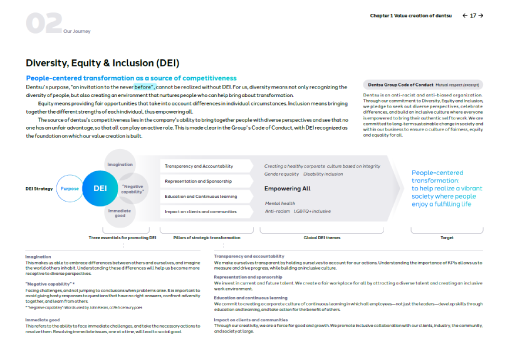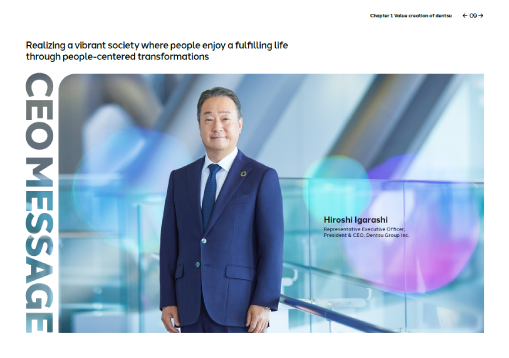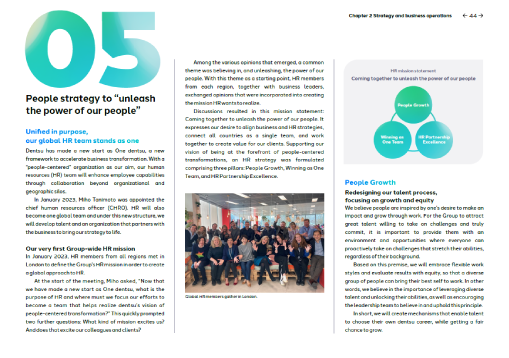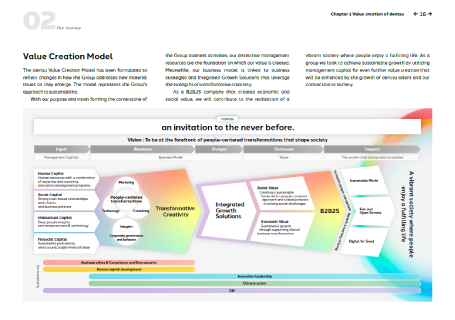 #####
For additional inquiries