Dentsu Group Inc. Receives the Highest Rating of "Gold" in the wwP "PRIDE Index" That Evaluates Corporate LGBTQ+ Inclusiveness Efforts
Nov 24, 2022
Sustainability
Awards & Certifications
TOKYO, Japan, November 24, 2022; Dentsu Group Inc. announced today that on November 10, 2022, it received for the first time the highest rating of Gold in the PRIDE Index*1, an index formulated by the voluntary organization "work with Pride" (wwP)*2 to evaluate corporate inclusion initiatives for LGBTQ+ employees and other sexual minorities in the workplace.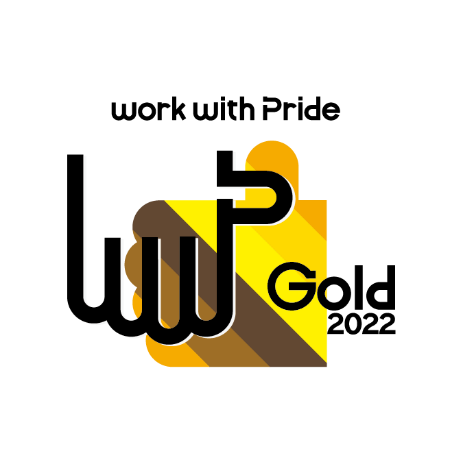 At the same time, Dentsu Group companies Dentsu Inc., SEPTENI HOLDINGS CO., LTD., and Dentsu Digital Inc. also received Gold ratings, while PR Consulting Dentsu Inc. and DENTSU HOKKAIDO INC. received Silver ratings.
Dentsu Group has set "Social Impact and ESG" as one of the four pillars of its Medium-term Management Plan, whose final year is fiscal 2024, and "diverse, equal and inclusive workforce" is listed as a priority item within this pillar.
Regarding the area of sexual minorities related to the "work with Pride" Gold rating, the Group has promoted understanding and developed internal systems through the Company's in-house DE&I promotion project. Moreover, in addition to expanding fair support for employees through activities such as sharing messages with society by exhibiting at TOKYO RAINBOW PRIDE and endorsing Business for Marriage Equality*3, the Group is actively working to disseminate information to society.
Going forward, the Dentsu Group will continue to promote various initiatives related to DE&I at all levels of the organization.
*1 Established in 2016 by "work with Pride" (wwP)*2, this is Japan's first evaluation index for LGBTQ+ inclusion initiatives at workplaces in Japan. Companies are evaluated and awarded one of three ratings: Gold, Silver, or Bronze, according to the total score of the five indicators that match each letter of PRIDE.
1. Policy: Action Declaration
2. Representation: LGBTQA Network
3. Inspiration: Raising Awareness
4. Development: Human Resources Management Policy and Programs
5. Engagement / Empowerment: Social Responsibility and External Activities
URL: https://workwithpride.jp/pride-i/ (Japanese language only)
*2 A voluntary organization that supports the promotion and establishment of diversity management regarding sexual minorities in organizations such as companies.
URL: https://workwithpride.jp/ (Japanese language only)
*3 Please see the following news release for details.
https://www.group.dentsu.com//en/news/release/000836.html

#####

Contacts:
Business Inquiries:
DJN Sustainability Development Office
Dentsu Group Inc.
E-mail: sustainability@dentsu-group.com
Media Inquiries:
Jumpei Kojima
Chief Director
Group Corporate Communications Office
Dentsu Group Inc.
E-mail: group-cc@dentsu-group.com