Dentsu Group Endorses Business for Marriage Equality (BME), a Campaign Promoting Same-Sex Marriage Legalization in Japan
Oct 11, 2022
Management
Sustainability
Dentsu Group Inc. announced it endorsed, under the direction of Hiroshi Igarashi, President & CEO, Business for Marriage Equality (hereinafter, BME)*, which is promoting marriage equality (the legalization of same-sex marriage) in Japan.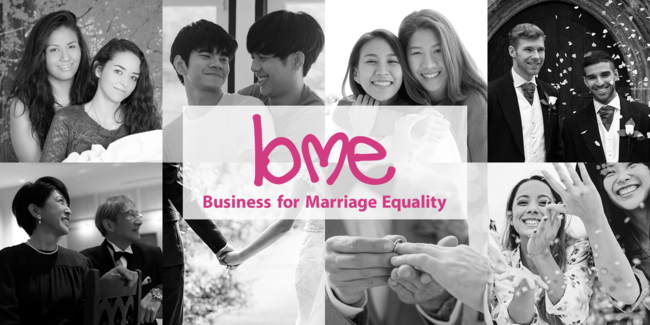 BME is a joint campaign by three groups, the Public Interest Association of Marriage For All Japan – Freedom of Marriage For All (MFAJ), the incorporated non-profit organization Lawyers for LGBT & Allies Network (LLAN), and the certified NPO Nijiiro Diversity. As of October 5, 2022, it has received endorsements from 283 companies and organizations.
In addition to expressing our support for the realization of marriage equality in Japan as a company which engages in creating social value through its businesses with all types of clients and partners, we see our endorsement of BME as an opportunity to reconsider the equity of all employees working at our group companies in Japan. Thus far, we have been considering revisions to our personnel system and benefits to reflect the partnership certificates issued by municipalities such as Shibuya-ku, Tokyo, expanding our fair support for employees. We plan to use the endorsement of BME as an opportunity to further improve these systems.
Dentsu Group has set "Social Impact and ESG" as one of the four pillars of its Medium-term Management Plan, whose final year is fiscal 2024. Within it, a "diverse & inclusive workforce" is listed as a priority item. In this area, several group companies in Japan received the highest three-star Eruboshi certification by the Japanese Ministry of Health, Labor and Welfare for promoting female empowerment, and abroad, its international business earned a perfect 100-point score in the US-based Human Rights Campaign Foundation's Corporate Equality Index 2022 for the first time. In addition to supporting the legalization of same-sex marriage, Dentsu Group will continue to promote various DE&I initiatives across all levels of the organization.
* Business for Marriage Equality (hereinafter, BME) Outline
URL: https://bformarriageequality.net/
#####
Contacts:
Business Inquiries:
Sustainability Development Office (within Dentsu Japan Network)
Dentsu Group Inc.
E-mail: sustainability@dentsu-group.com
Media Inquiries:
Jumpei Kojima
Chief Director
Group Corporate Communications Office
Dentsu Group Inc.
E-mail: group-cc@dentsu-group.com