Dentsu Japan Network Establishes "MIRAI JIGYO SOKEN," a Cross-Group Organization to Uncover the Future Value of Companies
Jul 1, 2021
IR-Voluntary Disclosure
Management
Dentsu Japan Network (President & CEO: Hiroshi Igarashi; Head Office: Tokyo; hereinafter referred to as "DJN"*1) announced today that, on July 1, 2021 it has launched MIRAI JIGYO SOKEN, a cross-Group organization that will uncover the future value of companies with a unique approach.
With the rapid changes in the social and business environments in recent years, the needs of client companies regarding future predictions and future business creation are rapidly increasing. In particular, the COVID-19 pandemic has dramatically changed people's lives and the social environment, creating a situation where they have no choice but to reset what they have up to now taken for granted, and where the future and goals that many companies envisioned in the past are becoming unclear. Against this background, in order to bolster our organization and expertise that support clients' business creation and business transformation, DJN decided to launch MIRAI JIGYO SOKEN.
■ Overview of MIRAI JIGYO SOKEN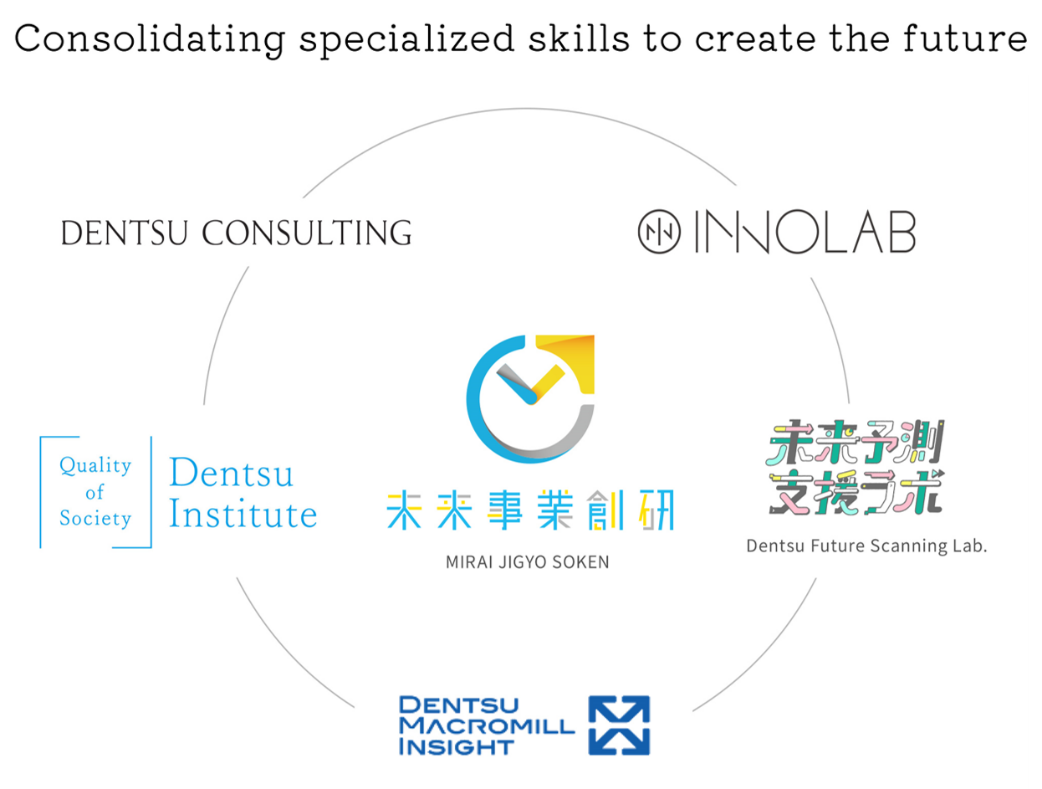 In addition to the experts at Dentsu Inc., Information Services International-Dentsu Ltd. (hereinafter referred to as "ISID"), Dentsu Consulting Inc., and Dentsu Macromill Insight Inc. (hereinafter referred to as "DMI"), who have been involved in the development of future businesses and services for their client companies, MIRAI JIGYO SOKEN includes the researchers at Dentsu Future Scanning Lab and Dentsu Institute, known as the Company's think tank, who have inherited the knowledge of future prediction that the Dentsu Group has cultivated for over 30 years, as well as teams specializing in brand vision formulation and product/service design development. By organically integrating and utilizing their respective knowhow, MIRAI JIGYO SOKEN will provide one-stop solutions that uncover the future value of companies.
By utilizing the "Business Development Program to Create the Future of Life" that was jointly developed by Dentsu Inc. and Dentsu Consulting Inc., the "technological know-how to create the future" gained from the more than 400 prototype development achievements of ISID Open Innovation Lab (hereinafter referred to as "INNOLAB") and DMI's "methods for decoding the future," MIRAI JIGYO SOKEN will consistently support prototype developments, demonstration experiments, and the commercialization of businesses and services that will be needed in the future.
Furthermore, on the occasion of the launch of MIRAI JIGYO SOKEN, DJN has developed the "Future-CSV approach"*2 to clarify future corporate value. This approach combines MIRAI JIGYO SOKEN's proprietary database "Future Society Facts"*3 and "Future People Insights" that are based on the research and achievements of each Dentsu Group company so far, and has 2030 as its main target. This is a method of visualizing future social issues and situations that may occur from the perspective of SDGs, as well as the desires and values of consumers, and clarifying the values required to achieve those lives. By adopting this approach, we launch the following four services to redesign the future: Future Business Creation, Sharing and Dissemination of the Future, Future Thinking Training, Collaborative Research Program on the Future.
■ "FUTURE CVS Approach"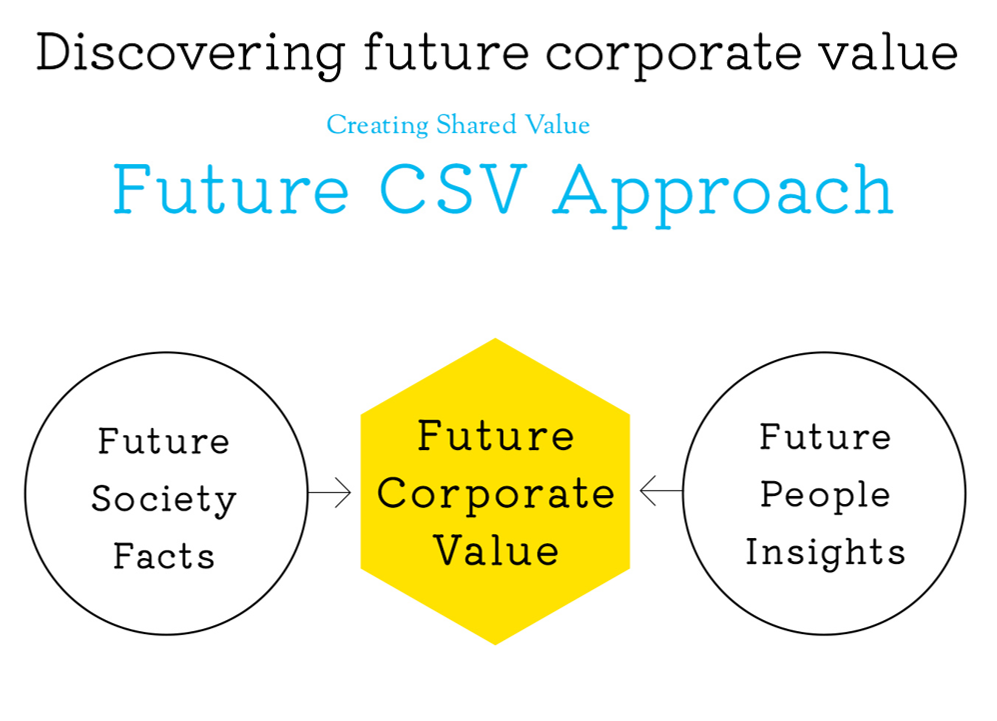 Going forward, MIRAI JIGYO SOKEN will promote optimal company matching within DJN's client network not only to solve future social issues that are becoming apparent one after another with technology solutions and business ideas, but to also create businesses and build ecosystems that contribute to the lives of companies, society, and people.
DJN works on evolving into an Integrated Growth Partner that is committed to the sustainable growth of client companies and society. To that end, DJN is focusing on strengthening its competitiveness in its four new business domains (AX, BX, CX, and DX)*4. This establishment of MIRAI JIGYO SOKEN is aligned with the enhancement of BX domain that supports clients' business transformation. DJN will continue to contribute to sustainable growth by supporting clients through a variety of initiatives.
This FUTURE-CSV approach provides the following four services to redesign the future we should aim for.
1. Future Business Creation
The "FUTURE CRAFT PROCESS," which creates a one-stop future business, first visualizes life in the future from information such as "future society facts" and "future people insights" that have been input through workshops and other sources. Next, based on the visualized future life, MIRAI JIGYO SOKEN will utilize Dentsu's original idea tool "Expert Idea 500" to create more than 500 ideas involving external experts, carry out verification of the acceptability of the ideas, perform demonstration experiments, and then verify their feasibility as a business.
■ "Future Craft Process"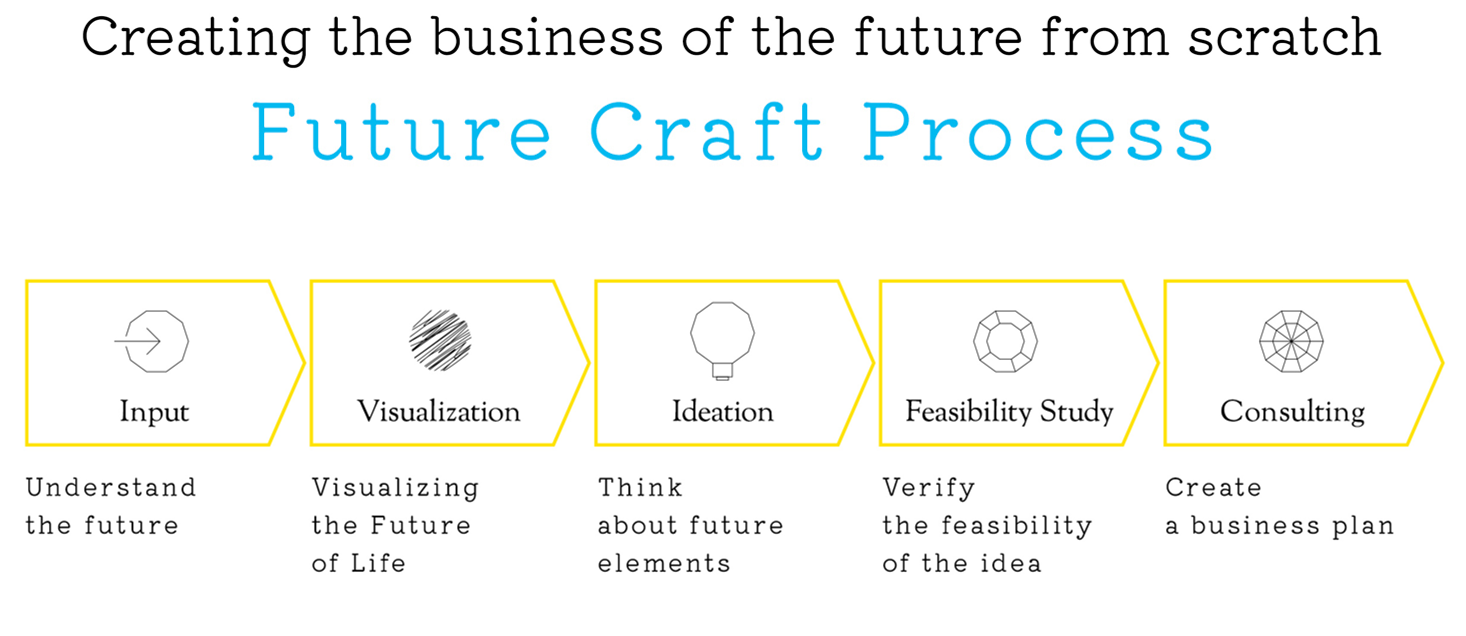 2. Sharing and Dissemination of the Future
By visualizing and clarifying images and keywords related to the future, MIRAI JIGYO SOKEN will visualize the situation surrounding consumers that may occur in the future and formulate a vision. In addition, MIRAI JIGYO SOKEN plans to disseminate this vision both within and outside the Group.
3. Future Thinking Training
MIRAI JIGYO SOKEN will input information about the social environment surrounding future consumers and conduct training to learn how to think about society and life in the future, and, having sketched these out, will practice creating new business ideas that will be required in the future and acquire ideas.
4. Collaborative Research Program on the Future
MIRAI JIGYO SOKEN will promote the "Collaborative Research Program on the Future," which is centered on Dentsu Institute, Dentsu Future Scanning Lab, and ISID's INNOLAB. The three main themes that are expected in the future are "initiatives for social issues", "development of consumer insights for the future," and "technology that changes the behavior and consciousness of consumers."
List of Teams Comprising MIRAI JIGYO SOKEN
*1 Dentsu Japan Network (DJN) is an in-house company within Dentsu Group Inc. It also refers to the network itself which consists of approximately 130 Dentsu Group companies in Japan.
URL https://www.japan.dentsu.com/en/
*2 CSV is an abbreviation for Creating Shared Value. It refers to a management strategy framework that balances the creation of social value by companies (≒solutions for social issues) and economic profit (≒consumer value creation program)
*3 MIRAI JIGYO SOKEN's unique input tool that collects and summarizes situations and issues in the society of the future by area
*4 AX (Advertising Transformation) domain: Domain to maximize the sophistication and efficiency of advertising
BX (Business Transformation) domain: Domain to support the business transformation of client companies
CX (Customer Experience Transformation) domain: Domain to design and deliver the optimum customer experience
DX (Digital Transformation) domain: Domain to facilitate transformation of the marketing infrastructure
#####
Contact:
Shusaku Kannan
Executive Director
Group Corporate Communications Office
Dentsu Group Inc.
Telephone: +81 (3) 6217-6602
E-mail: s.kannan@dentsu.co.jp