Dentsu Strengthens its Anime Business with the Establishment of Dentsu Anime Solutions Inc. in Japan
Jun 27, 2023
IR-Voluntary Disclosure
Management
―Contributing to the business growth of clients and the development of the anime industry as a whole―
Dentsu Group (Brand: "dentsu"; Headquarters: Dentsu Group Inc., Representative: Hiroshi Igarashi, President & CEO; Base: Tokyo) announced today that it will strengthen its anime business, with the establishment of Dentsu Anime Solutions Inc., a new company that will provide solutions centered on anime licensing. The new company's main businesses will be sales of anime and licensing (copyright business) such as merchandising to broadcasters and streaming platforms both in Japan and overseas. Dentsu Anime Solutions Inc. will be established on July 3, 2023 as a 100% consolidated subsidiary of Dentsu Group Inc. under dentsu Japan*1.
In the last ten years, along with the diversification and expansion of video streaming networks due to the spread of devices and video streaming services, anime has become an established genre in global entertainment. It is expected to grow significantly in the future as a global industry originating in Japan, including peripheral businesses such as games, merchandising, and events. In fact, the global anime market is expected to expand from USD 28.6 billion (approximately JPY 3.9 trillion) in 2022 to USD 60 billion (approximately JPY 8.3 trillion) in 2030. The average annual growth rate for the period is expected to be 9.8%*2.
Moreover, opportunities to provide solutions utilizing anime through the anime division of Dentsu Inc.'s Content Business Design Center to clients not only in Japan, but also in international markets are increasing year by year. The division's net revenue has nearly doubled over the last two years.
In light of this market expansion and increased demand from clients, by establishing a new company that will primarily handle the licensing of anime, we plan to recruit and train specialists and accumulate know-how, further accelerating the growth of dentsu's anime business.
Sei Matsumoto, Representative Director and President, Dentsu Anime Solutions Inc. said, "Our content business is one of dentsu's true differentiators. In particular, "anime" continues to generate enthusiasm around the world, especially among GenZ audiences.
It is a fast-growing opportunity for us as well, and we are pleased to announce the establishment of this new specialist company.
With this launch, we will continue to enhance our expertise in various areas, such as producing new anime IP, supporting sales, and of course license management.
By leveraging the creativity and networking of dentsu, we will be able to provide the best possible solutions around anime, support the business growth of clients and partner companies both in Japan and overseas, and contribute to the development of the anime industry as a whole."
The future roles of dentsu's anime business organizations located in Japan are expected to be as follows.
Dentsu Inc. Content Business Design Center, Anime Division:
Producing anime and provision of solutions utilizing anime to clients of dentsu both in Japan and overseas
Dentsu Anime Solutions Inc. (New company):
Sales of anime and licensing (copyright business) such as merchandising to broadcasters and streaming platforms both in Japan and overseas.
The profile and brand logo of Dentsu Anime Solutions are as follows.
Profile of Dentsu Anime Solutions Inc.
Company name
Dentsu Anime Solutions Inc.
Headquarters location
1-8-1, Higashi-shimbashi, Minato-ku, Tokyo
Capital
50 million yen
Shareholder
composition Dentsu Group Inc. 100%
Representative
Sei Matsumoto
Representative Director and President
(Current position: General Manager, Anime Producing Department 1, Content Business Design Center, Dentsu Inc.)
Date of establishment
July 3, 2023
Number of employees
Approximately 30 as of January 2024 (scheduled)
Line of business
Licensing and production of anime content in Japan and overseas and so forth
Brand logo: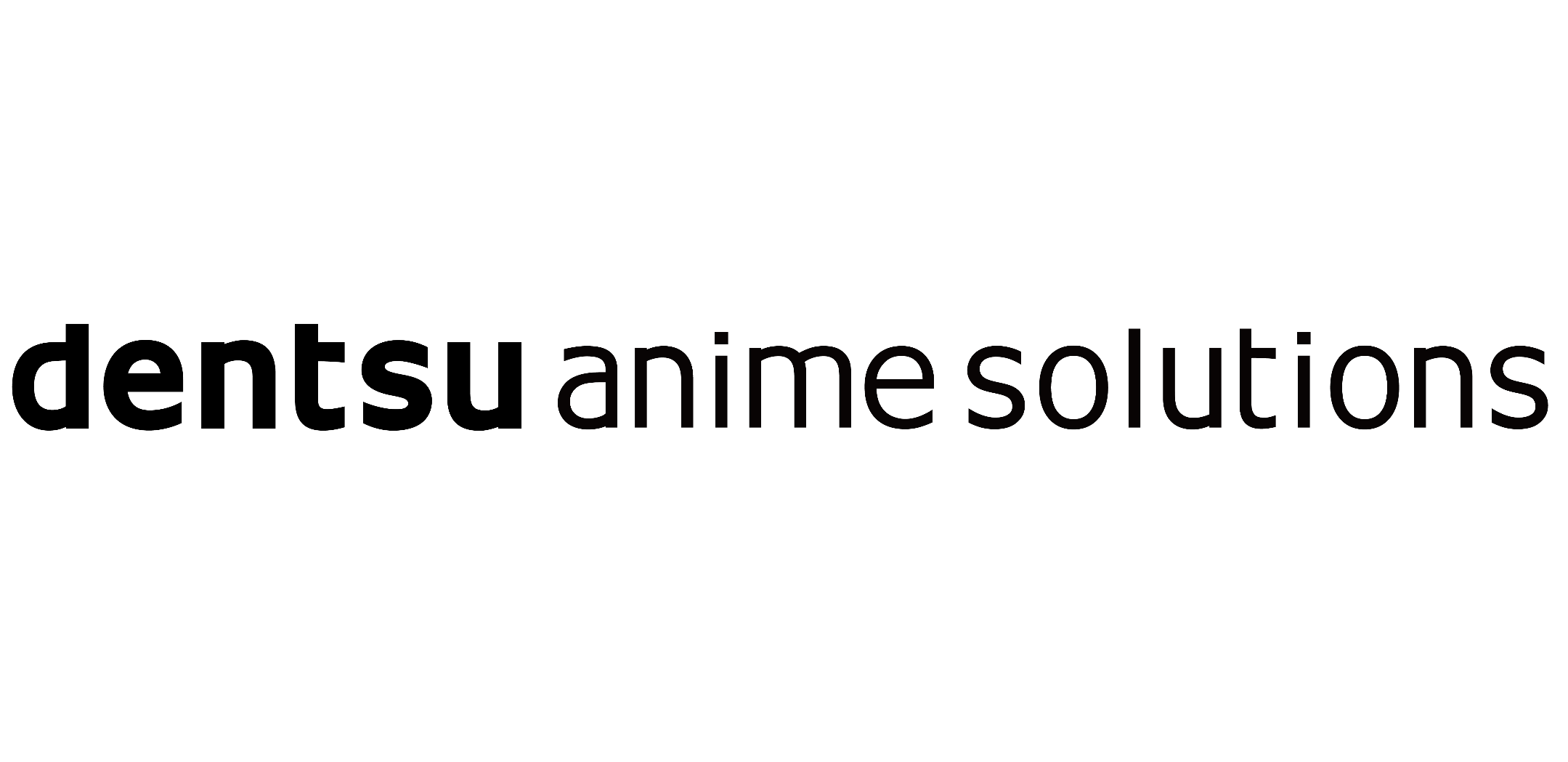 *1 dentsu Japan: Out of dentsu's four global business regions, dentsu Japan oversees and supports the Japan business in addition to representing the Japanese business brand. URL:https://www.japan.dentsu.com/en/
*2 Source: Global Anime Market Size, Share, Growth Analysis, By Type(Video, T.V.) - Industry Forecast 2022-2028 (Publisher: SkyQuest Technology Consulting Pvt. Ltd.)
Reference:
Manga Anime Growth Partners (a Dentsu Inc. cross-organization)
This organization provides comprehensive support for the growth of clients, partner companies, and the industry as a whole by bringing together the capabilities of each division within Dentsu Inc., which attend to each of the stakeholders in the manga, anime and related industries.
Please see the following news release on the organization's launch below:
URL: https://www.dentsu.co.jp/news/release/2022/1207-010569.html (Japanese only)
#####
About dentsu
Dentsu is the network designed for what's next, helping clients predict and plan for disruptive future opportunities in the sustainable economy. Taking a people-centered approach to business transformation, dentsu combines Japanese innovation with a diverse, global perspective to drive client growth and to shape society.
https://www.dentsu.com/
https://www.group.dentsu.com/en/
Contacts:
Business inquiries:
Sei Matsumoto / Toru Yamada
Dentsu Anime Solutions Inc.
E-mail:info@das.dentsu.co.jp
Media inquiries:
Jumpei Kojima
Deputy Chief Communications Officer
Dentsu Group Inc.
E-mail:group-cc@dentsu-group.com