Dentsu Named Most Creative Network at Spikes Asia 2021
Dentsu has been crowned Network of the Year at Spikes Asia 2021 with a combined number of 41 awards. This notable achievement saw the network pick up 3 Grand Prix, 1 Innovation Spike, 5 Gold, 10 Silver and 22 Bronze awards, spanning more than 10 categories.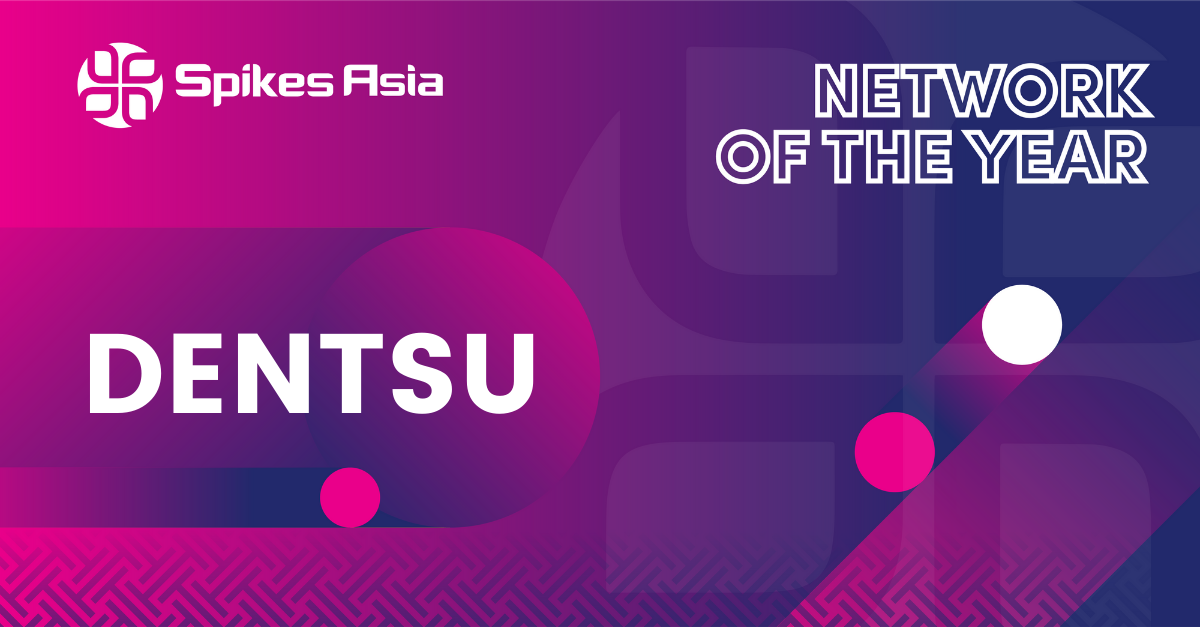 Dentsu Group award highlights:
- Dentsu Tokyo named Japan Agency of the Year and Dentsu Webchutney Mumbai won India Agency of the Year. Dentsu Tokyo also came in third for Asia Pacific Agency of the Year
- 2 Grand Prix wins came from the Digital and Digital Craft categories for Yokohama Hakkeijima Inc.'s "'The Ocean: Future Masterpieces' Exhibition" by Dentsu/Dentsu Digital/Dentsu Live Tokyo
- Dentsu Tokyo took another Grand Prix in the Print & Publishing category for Okinawa Times' "Language Sanctuary – Ad Space for Protecting Endangered Language"
- An Innovation Spike for Dentsu Tokyo's "Tuna Scope 2020" for Kura Sushi, Inc.
- Dentsu Webchutney Mumbai won a total of 22 awards including three Golds for Vice Media's "The 8-bit Journo"
- Dentsu Tokyo's young creative teams won first place in the online Young Spikes Film Competition and Integrated Competition respectively
The number of awards won in each category:
| Category | Number of Awards |
| --- | --- |
| Brand Experience & Activation | 2 Gold, 2 Bronze |
| Creative Strategy | 1 Gold, 1 Bronze |
| Design | 2 Silver, 4 Bronze |
| Digital | 1 Grand Prix, 2 Sliver, 1 Bronze |
| Digital Craft | 1 Grand Prix, 1 Silver |
| Direct | 1 Silver, 4 Bronze |
| Film | 1 Bronze |
| Film Craft | 1 Gold, 4 Bronze |
| Industry Craft | 2 Silver |
| Innovation | 1 Innovation Spike |
| Media | 1 Silver, 2 Bronze |
| Mobile | 1 Gold, 1 Silver, 2 Bronze |
| PR | 1 Bronze |
| Print & Publishing | 1 Grand Prix |
Hiroshi Igarashi, President & CEO, Dentsu Japan Network and Dentsu Inc. said:
In these challenging times, we have seen a lot of work, in and out of the industry, that have given strength to people, brands, and society. Dentsu has been able to provide its creativity to solve problems for people, brands, and society, and we are very proud to receive Network of the Year award as a recognition of such endeavors by dentsu. For 120 years, we have believed in creativity, and we have continued to keep challenging ourselves and innovating ourselves. Our creative spirit will not be contaminated by any virus. Together with the industry, we hope to lead the way to a never-before, exciting bright future.
Jean Lin, Global CEO, Creative, Dentsu International said:
Unbridled creativity is in dentsu's DNA and is key to how dentsu has helped build sustainable brands. Winning 'Network of the Year' is testament to dentsu's entrepreneurial spirit, demonstrating how creativity can be a force for both growth and good. We are excited and committed to partner with our clients to reimagine the future of creative experiences that drive meaningful progress for businesses and brands.
#####
Contact:
Shusaku Kannan
Executive Director
Group Corporate Communications Office
Dentsu Group Inc.
Telephone: +81 (3) 6217-6602
E-mail: s.kannan@dentsu.co.jp