Notice regarding the Year-end Dividend Forecast for the Fiscal Year Ending December 31, 2020
Nov 11, 2020
IR-Timely Disclosure
Management
Dentsu Group Inc. (Tokyo: 4324; ISIN: JP3551520004; President & CEO: Toshihiro Yamamoto; Head Office: Tokyo; Capital: 74,609.81 million yen) hereby announces the forecast of year-end dividend per share which was resolved at a meeting of the Board of Directors held today.
1. Year-end Dividend Forecast for the Fiscal Year Ending December 31, 2020 (IFRS)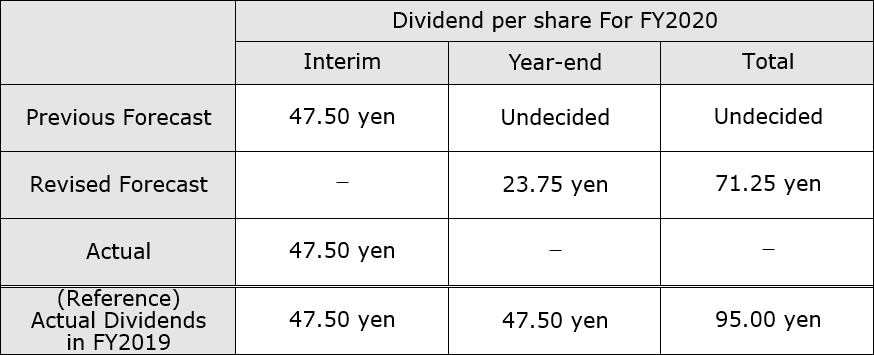 2. Reasons for Year-end Dividend Forecast
At the second quarter earnings announcement on August 13, 2020, we announced the withdrawal of the initial year-end dividend forecast of 47.5 yen due to the start of "the comprehensive review and accelerated transformation plan." The scope of the review covers all aspects of business, cash utilization and balance sheet management including dividends. While the review is underway, given the impact of COVID-19 pandemic to our consolidated business performance for this fiscal year, year-end dividend forecast is determined to be 23.75 yen per share.
#####
About dentsu
Led by Dentsu Group Inc. (Tokyo: 4324; ISIN: JP3551520004), a pure holding company established on January 1, 2020, the Dentsu Group encompasses two operational networks: dentsu japan network, which oversees Dentsu Group's agency operations in Japan, and dentsu international, its international business headquarters in London, which oversees Dentsu Group's agency operations outside of Japan. With a strong presence in over 145 countries and regions across five continents and with more than 66,000 dedicated professionals, the Dentsu Group provides a comprehensive range of client-centric integrated communications, media and digital services through its nine leadership brands—Carat, dentsu X, iProspect, Isobar, dentsumcgarrybowen, Merkle, MKTG, Posterscope and Vizeum—as well as through Dentsu Japan Network companies, including Dentsu Inc., the world's largest single brand agency with a history of innovation. The Group is also active in the production and marketing of sports and entertainment content on a global scale.
Dentsu Group Inc. website URL: https://www.group.dentsu.com/en/
For Additional Inquiries