Contributing To Sustainable Development Goals (SDGs)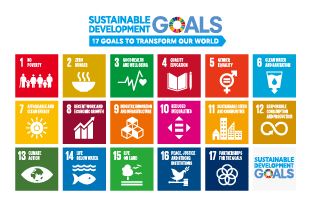 At the September 2015 United Nations Sustainable Development Summit, the Sustainable Development Goals (SDGs) were announced as an action plan for humanity, the Earth and prosperity. The plan comprises 17 goals and 169 targets. The Dentsu Group, which provides a diverse array of value in the communications field and always looks to the future, is contributing to the resolution of global social issues. Through seminars and workshops, we are helping to provide support for stakeholder SDG initiatives. As part of these activities, in November 2017 we invited photographer Leslie Kee to create portraits of Dentsu employees engaged in efforts to achieve the SDGs. In this way it was hoped that awareness of the SDGs would be further inculcated within the Company. In addition, we created the SGDs Communication Guide. It is a guide for employees engaged in corporate management and advertising, as they go about their advertisement-related and promotional activities in connection with the SDGs.
Further, the Dentsu Group is participating in the groundbreaking initiative called Common Ground, with the world's five other top advertising and marketing services groups (Havas, IPG, Omnicom, Publicis, and WPP). The Group is focused on Goal 3, which is health, and is working with NGOs to counter global infectious diseases such as malaria and tuberculosis.
Common Ground ➡ https://www.dentsu.com/csr/commonground.html
SDGs Communication Guide ➡ https://www.dentsu.com/csr/team_sdgs/pdf/sdgs_communication_guide.pdf
Dentsu Group Involvement with the SDGs
The Dentsu Group is focused on medium- to long-term megatrends, and is engaged in a variety of activities aimed at resolving global issues facing humanity. We will contribute to the achievement of SDGs through our core businesses in the fields of marketing and communications.
Megatrend

Redistribution of
wealth
Global issue

Wealth disparity/rising
income polarization
Expanding business activities to develop communities on a global scale
The Dentsu Group develops business in more than 140 countries and regions. In addition to conducting business, the Group recognizes that contributing to the development of communities around the world is one of its responsibilities. We engage in a variety of projects concerning poverty, income disparity, and numerous other issues at the regional level with aspiration and a strong aptitude for action. We deliver messages throughout the world pertaining to the eradication of problems including poverty and hunger, using advertisements that display creativity and contribute to the development of communities through local activities led by our more than 50,000 employees.
Megatrend

Demographic changes
Global issue

Minorities/super aging societies
Changes in consumer behavior patterns, diversification of consumer needs
Globally, populations are continuing to increase and changes are being seen in their composition. Diversity is coming to many countries as the ratio of minorities there increases. It is becoming important to create societies that accept immigrants, LGBT individuals, as well as a diverse array of cultures. In line with changes in consumer behavior patterns and the diversification of consumer needs, the Dentsu Group will leverage its marketing and communications capabilities focused on advertising, to raise consumer awareness and inspire action, significantly contributing to the creation of societies where everyone can live comfortably.
Megatrend

Digitization
Global issue

Digital dependence
Digital shift within client marketing activities
The advance of digital technologies has caused a remarkable change in the behavior of consumers. The Dentsu Group leverages its significant capabilities to provide optimal solutions for client marketing activities combining various ideas and technologies, including AI, big data analysis, and e-commerce support.
At the same time, dependence on social media and other digital content, mainly among young people, has become a prominent social issue. In response, the Dentsu Group, which plays a role in the promotion of digitization, is also working on resolving this problem through the framework of the responsible marketing and sustainable consumption target in our Medium-term CSR Strategy.