Message
Message form Chief Financial Officer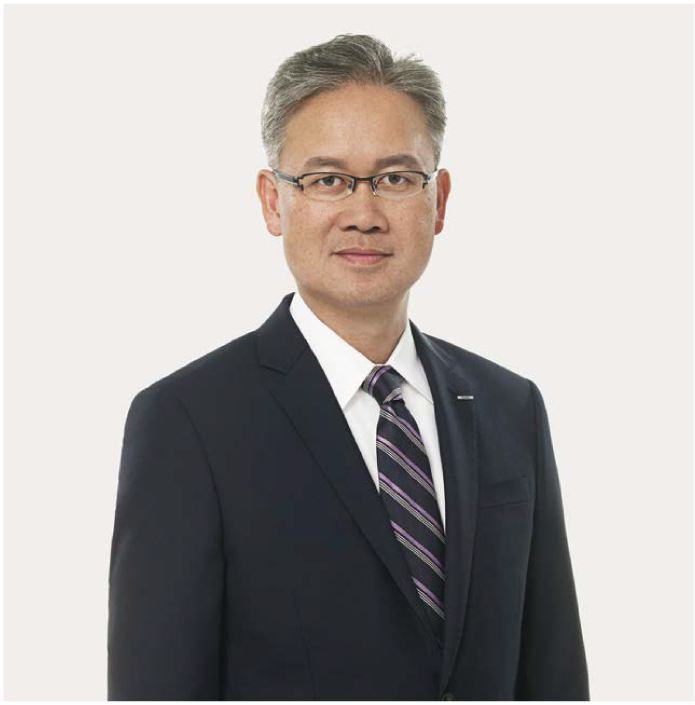 REFORMS, TRANSFORMATION
TO BOOST CORPORATE
VALUE
FY2017 Performance
FY2017 (ended December 31, 2017) saw the Dentsu Group engage in reforms and transformation in both Japan and overseas.
Marking the ongoing transition to digitization, many of our clients around the world revamped their traditional marketing activities, and there were signs of a temporary slowdown in ad spending. According to the global ad spend growth forecast published in June 2018 by our international head office, Dentsu Aegis Network (hereinafter "DAN"), the global growth rate for calendar 2017 was 3.3%. Broken down by region, Japan grew 1.6%, the area comprising Europe, the Middle East and Africa (hereinafter "EMEA") 3.2%, the Americas 3.1% and the Asia–Pacific region (excluding Japan; hereinafter "APAC") 4.0%.
The Dentsu Group continued to emphasize its priority on working environment reforms and corporate infrastructure development in Japan, while stressing Group-wide business transformation. In Japan, amid the environmental changes reflecting ongoing technological innovations, we engaged in business improvement efforts designed to provide the value demanded by society, not just our customers. We focused on ensuring legal compliance in our domestic business, with emphasis on eliminating overwork, and on establishing a corporate infrastructure that will lead to sustainable growth. In the area of international business, conducted by DAN, we accelerated our efforts to become a 100% digital economy business by 2020. Ongoing strategic M&A activities have allowed us to expand our ratio of digital business, bolster our scale and capabilities, and acquire talents with an entrepreneurial spirit.
As a result, gross profit was ¥877.6 billion (a year-on-year increase of 11.2%, or 9.2% on a constant-currency basis), mainly due to acquisitions (up ¥73.1 billion year on year) and the currency effect (up ¥14.8 billion year on year). At the same time, with expenses of ¥7.0 billion for work environmentrelated reforms in Japan, the underlying operating profit was ¥163.9 billion (down 1.6% year on year; 3.8% on a constantcurrency basis). (Diagrams 1 and 2)

In Japan, gross profit for the Group was nearly the same as for the previous fiscal year, despite growth in the digital domain. It stood at ¥361.9 billion (down 0.4% year on year; organic growth down 0.3% by the same comparison). This was mainly due to the absence of major events such as the 2016 Olympic Games in Rio de Janeiro held the previous year. The Group's operating profit(※) in Japan was down 8.8% year on year, with Japan business accounting for ¥88.8 billion. The decrease mainly was due to the sluggish organic growth of gross profit, as well as to expenses related to working environment reforms.
The Group's international business, meanwhile, continued to show growth, with an overall gross profit of ¥516.0 billion (up 21.1% year on year), mainly due to aggressive M&A activities and contributions from the acquisition of Merkle Group Inc., in September 2016. The constant currency basis growth rate increased 17.1% year on year, while the organic growth rate rose only a slight at 0.4% year on year, reflecting the slowdown in advertising markets. Broken down by region, the gross profit growth rate in the Americas increased 28.7% year on year (organic growth declined 1.5% by the same comparison), in the EMEA 22.3% year on year (organic growth up 3.1%), and in APAC 9.0% (organic growth down 0.6%). International business accounted for ¥75.1 billion of the underlying operating profit (up 8.8% year on year; up 3.5% on a constant-currency basis by the same comparison).
In addition, the digital domain ratio was 43.2% on a consolidated basis (37.3% in FY2016), with year-on-year increases in Japan business of 22.2% (19.7% in FY2016), and in international business of 57.9% (52.3% in FY2016).
FY2018 Key Measures
Looking at our business in Japan, work environment-related reforms will remain our top priority during FY2018 (ending December 31, 2018), while at the same time we will promote infrastructure development with a view to attaining future growth. In line with the Working Environment Reform Plan announced on July 27, 2017, we will complete the promised office environment reforms and infrastructure development started in 2017.
Our working environment-related reforms mark a new phase in the Group's growth, as we seek to optimize the time and energy of each employee so as to create an environment that is truly efficient. We see this as a necessary step in our bid to provide our clients with higher value services, help realize social innovations, and ensure the personal growth of employees and the Company.
On the Japan business front, in FY2018 we will strive to enhance sustainable corporate value by investing in necessary reforms.
In FY2017, the Group's investments associated with office environment-related reform amounted to ¥7.0 billion on a non-consolidated basis. This comprised ¥1.3 billion for the addition of 300 employees to remedy the staffing shortfall; ¥4.0 billion for internal work inventories, in line with operational efficiencies related to the introduction of IT, robotic process automation (RPA), information communications technology (ICT), as well as measures including outsourcing and strict labor management; and ¥1.7 billion for office environment-related improvements.
In FY2018, we plan to invest ¥13.0 billion to accelerate work environment-related reforms. We will strengthen our efforts in the areas of IT, RPA, and ICT that were effective last fiscal year, and implement major changes to our internal operational and human resource systems. To this end, we plan to spend ¥8.0 billion on measures to increase operational efficiency and manage labor appropriately; ¥2.5 billion on office environment-related improvements; and ¥2.5 billion on hiring additional employees.
While maintaining the 2017 momentum our international business enjoyed from the Group's all-time high procurement of new businesses(※), we will continue investing in data-related capabilities. Reflecting our long-term business perspective, we also will invest in projects that provide a common platform and shared services that contribute to operational standardization, rapid decision-making, and increased work efficiency. Further, we plan to continue enhancing scale and capabilities, engaging in M&As, and acquiring talent with an entrepreneurial spirit.
According to the global ad spend growth forecast published by DAN in June 2018, global growth for calendar 2018 stood at 3.9%, with growth in Japan 1.6%, the EMEA 3.1%, the Americas 3.8% and APAC 5.7%. Given this environment, the Group will continue to seek organic growth exceeding that of the competition.
Capital Policy and Dividends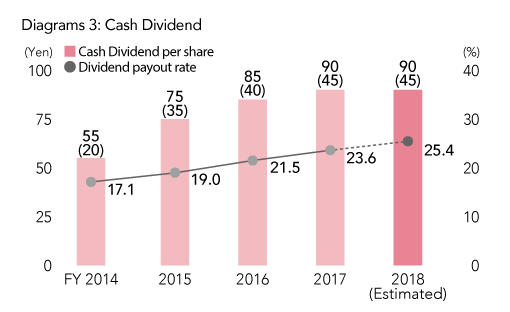 The Dentsu Group's top priority is to continue allocating capital for aggressive investment in growth domains in Japan and overseas to achieve sustainable profit growth.
Our policy is to enhance our intrinsic corporate value, and realize stronger competitiveness, higher profitability, and business growth. At the same time, we are focusing on management stability and financial soundness. This we are doing through investments to create further business opportunities, in response to increasingly international corporate activities and the advance of digitization.
Shareholder returns are an important management issue. Reflecting the changes in the management environment surrounding the Company, we will attempt to provide comprehensive returns, and aim to increase the return on equity over the medium term. This we shall do by maximizing corporate value through long-term business growth, by achieving sustainable and stable dividends, and through flexible share buybacks. (Diagram 3)
Dividends are determined in consideration of the need for stable internal reserves to ensure sustainable investments in business growth, consolidated earning trends, and financial conditions. In FY2017, we paid a dividend of ¥90 per share, comprising an interim dividend of ¥45 per share and a year-end dividend of ¥45 per share.
Your continued understanding and support for the Dentsu Group is highly appreciated.