International Business Strategy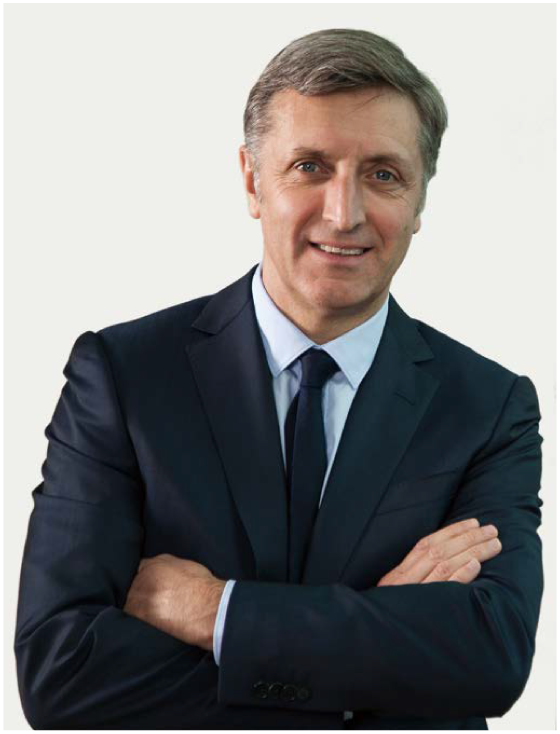 2018 Marks the Fifth Anniversary of the Creation of Dentsu Aegis Network
Completed in March 2013, the acquisition of Aegis Group by Dentsu was the largest ever deal seen in the advertising sector. Since then, much has been achieved. Our revenues have increased three-fold, with 57.9% of our revenue now generated from digital activities – an industry leading figure. Our workforce has grown from 15,000 to more than 42,000 people and we have made 150 acquisitions and investments, transforming our capabilities and talent. However, while we have a lot to be proud of, we remain focused on the future and the opportunities that lay ahead.
2017 was a challenging year for our industry and our business. We posted a resilient performance despite many of our clients pulling back some of their marketing spend. Within the context of a challenging environment, we responded well, we mobilised around a new reality and delivered the right response quickly.
We controlled our discretionary cost line and focused on new business, delivering a record year for net new business at $5.2 billion, a result I am very proud of. We introduced strong, new management to three of our five largest markets (US, UK & China). The speed of our response generated momentum towards the end of the year, providing a tailwind into 2018.
Managing Complexity in a Fast Changing Environment
Looking forward, many of the forces that made 2017 challenging remain in 2018 and, if anything, will accelerate. We are seeing structural changes in the market. Advertising spend growth is lagging GDP growth for the first time and in 2018 digital advertising spend will overtake TV spend.
To address these issues we have continued to invest in data capabilities. Our competitive advantage comes through the insight and addressability data provides, this is critical to our long-term success in a changing industry. The M1 platform is a key pillar of our data strategy and is the first phase in realising our vision for all media planning and activation to be people based. 2018 will see the roll out of the M1 platform in a number of key markets.
Data governance remains a key priority for Dentsu Aegis Network and data privacy and protection is fast becoming a focus of our clients and society as a whole. We have combined data, legal and compliance professionals together under new data governance councils to ensure our data protection officers and compliance staff are actively involved in the decisions we make around data – helping ensure we continue to act responsibly, fairly and ethically.
Strategic Priorities for 2018
Continued focus on our key strategic priorities will drive momentum and growth across the business.
Purposefully grow revenue in high margin, high growth sectors
Strengthen our point of differentiation around data and People Based Marketing
Leverage media and content to create more scaled investment opportunities
Enhance our integrated solutions offering in service of client needs
Maximise efficiency across our operations
Continue to evaluate market transformation opportunities to grow capability
In a high change environment a focus on growth and investment is key and frames everything we do. We have a high performance culture underpinned by one set of values – collaborative, agile, pioneering, responsible, ambitious. To move faster we need to continue to build on our culture; allowing for greater collaboration between brands on a local, regional and global level. We plan to crystallise our integrated solutions offer that enables our network brands to operate together better.
2018 will see a more proactive approach to transformation. The investment in and transformation of the business continues as we build shared global systems and platforms. This allows us to execute more effectively and drives efficiencies through the business, such as shared services. We will continue to invest in the business through 2018 to drive long-term sustainable growth. We have a strong, cash generative balance sheet, which is an important tool in remaining competitive.
Despite the challenges of 2017, we are still on course for our long-term target of £5billion revenue by 2020. We will embrace the storm of disruption so that we emerge stronger, more successful and more valuable to our clients.
The strength of our network and the way we operate the business brings an advantage. Uniquely in our sector, we have a vision, to innovate the way brands are built; and a purpose, to be a 100% digital economy business by 2020. We remain commercially agile, focused on the opportunities the digital economy provides and ready to embrace the disruption it brings.