Message
Message form Domestic Business Director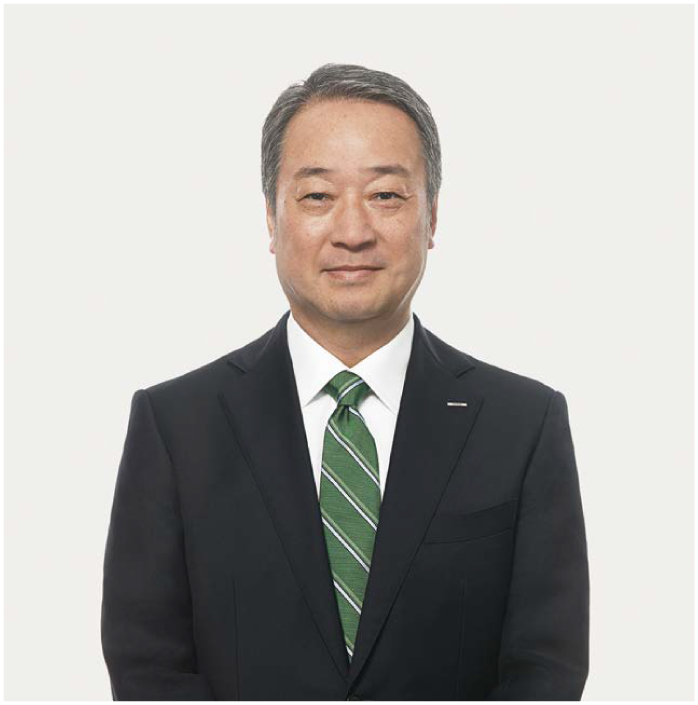 ACHIEVING SUSTAINABLE
GROWTH IN THE JAPAN
BUSINESS
For FY2017, 41.2% of the Group-wide gross profit and 54.1% of the underlying operating profit make Japan the Dentsu Group's largest market. The Group handles a broad variety of business in Japan, mainly involving advertising. At the more than 50 directly owned Group subsidiaries working on Japan business, there are approximately 17,000 employees in the Group, and including those at Dentsu, the Parent Company.
The World Economic Outlook 2018, published by the International Monetary Fund (IMF) in April, predicts that the world economic growth rate for 2018 and 2019 will be +3.9%. The forecasts for Japan are growth of +1.2% in 2018 and +0.9% in 2019. Japan is expected to have lower economic growth than the United States and China. The organization's outlook for economic growth in both the latter nations, which have a higher GDP and larger advertising markets than Japan, indicates that they are forecast to grow in the upper two percentile range and six percentile range, respectively. Nevertheless, we believe that there is potential for both economic expansion in Japan and growth in Dentsu's business in Japan, where the Company was founded.
In order that the Group's Japan business might realize sustainable growth during the 2020 Tokyo Olympic and Paralympic Games and beyond, we are engaged in working environment reforms, involving full-scale initiatives launched in 2016 and are promoting changes in the Japan business. The changes in line with the business transformation engaged in by the entire Dentsu Group are being introducing to expand our Japan business are based on the following three pillars, and are designed to achieve sustainable growth.
Strengthening Marketing Competitiveness
The People Driven Marketing™, Dentsu Group's planning platform, introduced in 2017, is used in advertising and a wide range of other areas. Also since 2017, as a planning platform we have been promoting extensive standardization within the Group. Further, through proactive collaboration with partners possessing highly specialized and advanced technologies, we have been carrying out functional advances and already are seeing results.
In February 2018, we announced our acquisition of Data Artist Co., Ltd., one of Japan's leaders in the AI domain. We are already using that company's excellent AI technologies to enhance services in advertising and other areas, and to sharpen our competitive edge.
We also plan to use the technologies to bolster our corporate foundation by increasing Group-wide operational efficiency and further optimizing human resource management.
Amid the rapid advance and practical applications of various technologies, and from the perspective of succeeding with transformations in areas of our Japan business, it is important to proactively use technologies at the forefront of our industry.
Expanding Business Domains in Japan
Expanding our business domains in Japan, which have advertising business at its core, is one of the key elements in the transformation in order to achieve sustainable growth. Business supporting customer company management, and intended thereby to achieve business transformation and expansion, is an area generally referred to as business design. Here we aim to acquire business opportunities since it is a domain that holds great potential for growth.
Besides steadily acquiring business design opportunities, we are promoting the start of business in such areas as data management, support for sales force automation, and customer relationship management. In addition, we are encouraging the introduction of cloud-based marketing in corporations. We plan to continue expanding our business domain in Japan by combining Dentsu Group capabilities with outside expertise and cutting-edge technologies.
Attempting to Establish a Position as Customer Business Partner
Advancing competitive capabilities in the marketing domain, together with business domain expansion in Japan, are services designed to resolve business issues directly faced by Dentsu Group customer companies.
While we often have led business promotions jointly with customers, if such cooperation is to increase, we must continue seeking business investment opportunities in Japan.
Dentsu currently has a client base in Japan comprising several thousand companies. But, considering the Group as a whole, the number and variety of companies is even greater. Indicative of the massive potential of the Dentsu Group is the fact that it is in constant contact with a range of clients, including media companies, platform developers, rights holders, content creators, organizations and public institutions.
As last year, 2018 represents a period of reform and fundamental development. Ensuring the health and individual growth of all Japan-based Dentsu Group employees, by supporting them individually as they work to expand their potential and broaden their possibilities, are the most important requirements for our Japan business to grow.
With the goal of realizing sustainable growth in our Japan business, we aim to advance and expand our traditional business domains, while attempting to establish a position as a client business partner.