Overview of the Dentsu Group
As the driving force in Japan's advertising industry, the Dentsu Group maintains long-term business relationships with a variety of customers that include leading corporations in Japan and overseas. We have also established distinctive services in overseas markets and built a solid network covering Japan, Americas, EMEA and APAC. Our operations are led by Dentsu in Japan and Dentsu Aegis Network internationally.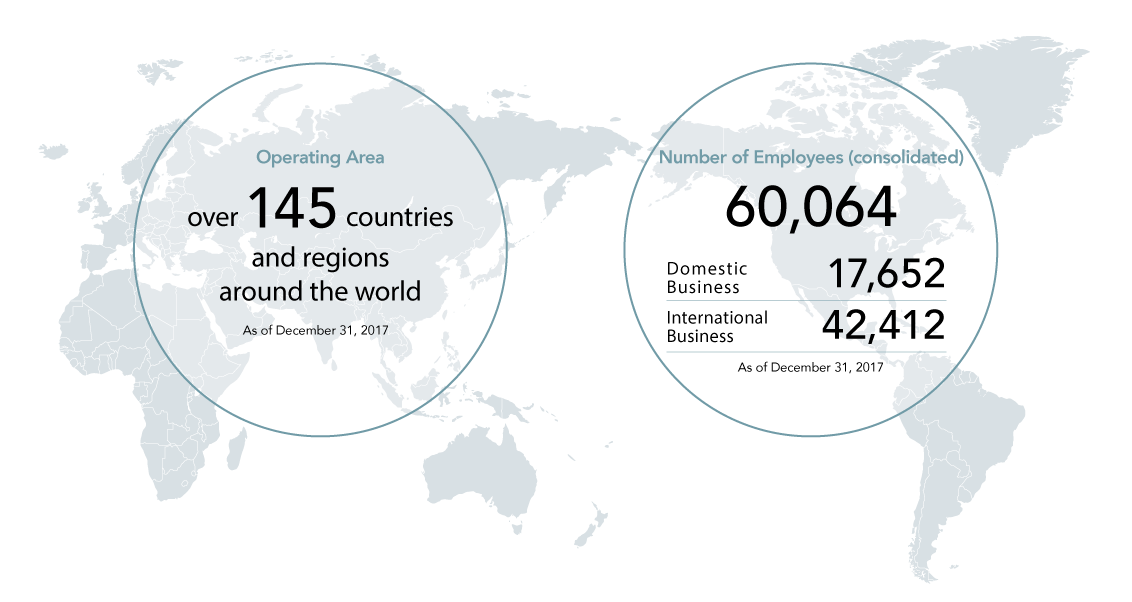 Gross Profit
¥877.6billion
January to December 2017
Underlying Operating Margin
18.7 %
January to December 2017
International Business Ratio(※)
58.8 %
(※)gross basis.
January to December 2017
Digital Domain Ratio
22.2 % (in Japan)(2.5pt↑)
57.9 % (international)(5.6pt↑)
January to December 2017
Ranking of Advertising Holding Company Groups
Top 5Worldwide
Source: Advertising Age, May 2018
(Advertising Age estimates)
Share of the Japanese Advertising Market
24.4 %
Note: Under JGAAP, net sales are calculated in calendar 2017.
Sources: Advertising and Economy; Current Situation of Japanese Advertising Agencies; and 2017
Advertising Expenditures in Japan (Dentsu)
Reduction Rate of
CO2 Emission
9.3%
year-to-year comparison basis,
scope 1+2+3
A Strong Global Network
We provide integrated services with high added value to customers in countries using global resources and infrastructure provided by 10 global network brands and five global specialist/multimarket brands in addition to domestic Group companies.
To realize the Dentsu Group integrated and specialist approach, common business goals are established by each Group company to achieve seamless coordination. We are also able to provide integrated services by collaborating with top class professionals, in a variety of fields and located around the world.
Assessment from Outside Institutions
Dentsu Group disclosure of activities and information related to environmental preservation and other sustainability efforts, as well as the achievements of our initiatives to the environment, social and governance (ESG), have been favorably assessed by institutions responsible for ratings and awards.