Our strategy
Medium-term Management Plan
Diversifying the portfolio on a global basis
Overview
We aim to expand our customer base in terms of both region and service domain, leveraging customer assets cultivated by both Dentsu and Aegis. We will work to win new accounts in all markets,offering a unique global network with an established business base in Japan.
Progress in Fiscal 2016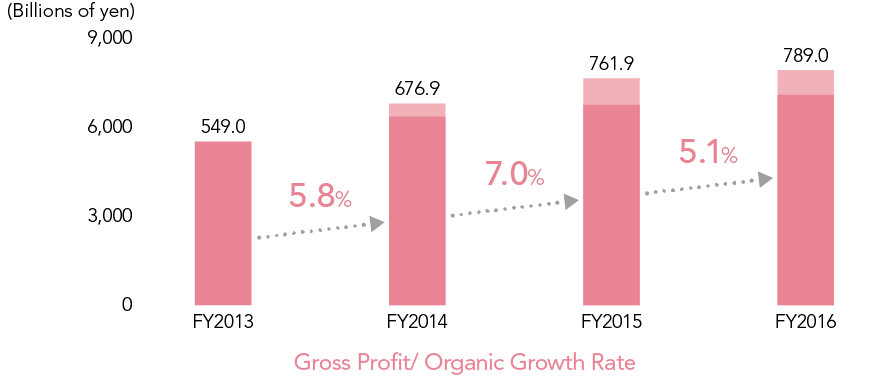 International business grew rapidly, due to increased business from existing clients,progress in winning new accounts, and steady growth of digital networks. As a result,international business accounted for 54% of our gross profit. With this figure, we achieved our medium-term management plan target one year early. Organic growth, including in Japan business, exceeded the plan's target figure of sustained 3–5% growth. We also conducted multiple mergers and acquisitions (M&As) to acquire resources and help increase our competitiveness.
Evolving and expanding in the digitaldomain
Overview
As marketing activities shift toward digital marketing, the Dentsu Group is using M&As to increase our capabilities in the digital sphere.We will provide a one-stop service encompassing various areas of digital marketing.
Progress in Fiscal 2016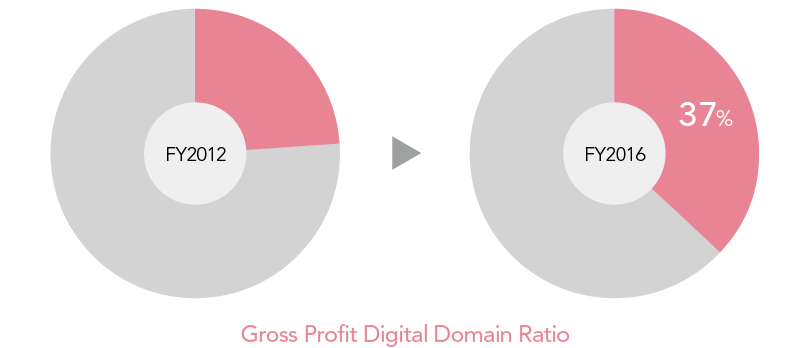 Gross profit in the digital domain grew both for our domestic and international businesses, and we reached our mediumterm management plan targets (digital domain making up 35% or more of gross profit) one year ahead of schedule.Overseas, we acquired various resources―particularly through largescale M&A activity―that are expected to contribute to growth in the digital domain.
Re-engineering business processes and improving profitability
Overview
We will work to streamline all business processes through cost controls and flexible resource management on a global scale.Especially in Japan, we will steadily review and reduce assets and increase the profitability and business efficiency of the Group.
Progress in Fiscal 2016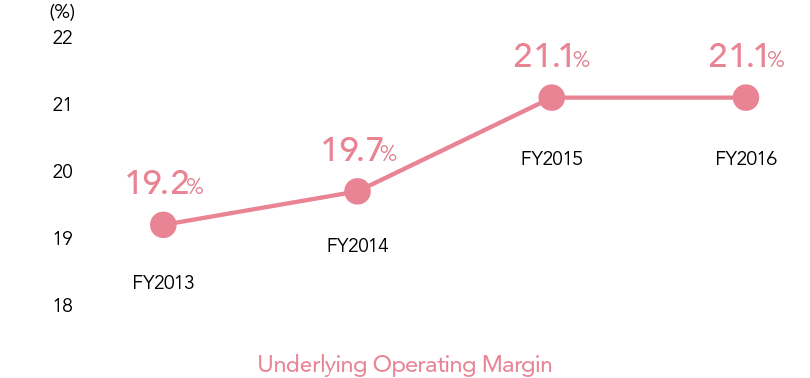 Despite a rise in expenses in line with technology investments in international business, ongoing cost controls in our Japan business led to a consolidated underlying operating margin of 21.1% in fiscal 2016. We therefore met the targets of our mediumterm management plan, as in fiscal 2015.
Further reinforcing the business platform in the core Japanese market
Overview
We will work to advance our digital solution capabilities and structure in order to reinforce our established business platform in Japan, where the Group's main strength lies. In addition, we will work to increase our competitiveness in the mass media business and sports marketing area.
Progress in Fiscal 2016
To increase competitiveness, we started increasing our expertise through reorganizing the Group, including Dentsu, mainly in the key areas of digital and promotion. We also worked to increase profitability. As a result, the Japan business saw growth in gross profit and underlying operating profit operating margin.
Reinforcing the Promotion Domain
In January 2017, we established Dentsu Live Inc. by integrating Dentsu's Event & Space and Design departments with Dentsu Tec's Event & Space related department. The promotion business was taken over by a new company, which adopted the existing name Dentsu Tec Inc.
Under the new structure, we plan to provide services that meet the diverse digital marketing demand of our customers.