International business 2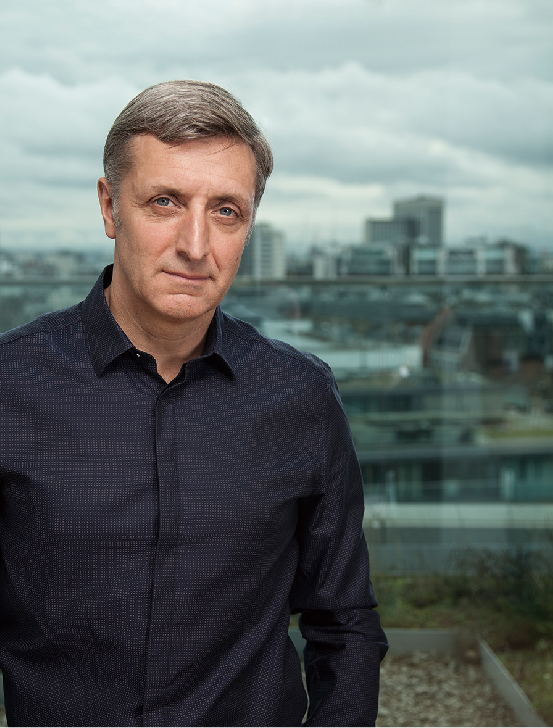 Transforming our client's brands to win in the Digital Economy
Disruptive innovation is key in a rapidly changing digital economy
The digital economy remains the only growth certainty of the next five years, and the pace of change over the next five years will be faster than the last 15 years. This new economy is underpinned by technology development which is disrupting industry and the way we work—AI, IoT, blockchain, robotics, sensor tech and AR/VR. In fact, it is estimated that combined revenue from AR/VR will reach around $150bn by 2020, with AR accounting for the majority of this.
Within this context, traditional global brands are being disrupted by new, local, digitally enabled and data driven entrants and are challenged to respond faster, in new ways and with market relevance. This disruption to traditional business models will continue, where data is increasingly the source of competitive advantage. Data is central to delivering more personalised marketing and advertising services. Consumers will continue to drive demand and ever-increasing volumes of data mean that competitive advantage will lie in the ability to turn consumer data into actionable insight.
This evolving environment will require businesses to develop and integrate systems, platforms and transversal workings with their organisations, supported by a strong performance focused culture. Businesses need digital economy solutions—across-consumer insights, data, creativity, performance and accountability—to transform for the new economy.
Our strategy - accelerated by acquisition and culture
Given the pace of change and growth of the digital economy, the Dentsu Group must maintain its positive momentum in operational and financial performance to stay well positioned to access high-growth segments, capabilities and geographies for our clients.
We achieve this at Dentsu Aegis Network by staying focused on our strategy to be a 100% digital economy business by 2020. Dentsu Aegis Network has consistently outperformed the peer group average on an organic revenue basis, by a factor of two to three times over the past five years. This outperformance has been achieved by 1) Leveraging our global scale and a consistent offering across our network. 2) Leveraging our unique operating model, with one P&L per market and key capability stacks (e.g. mobile/ video) that ensure we are truly differentiated. 3) Living our high performance culture everywhere – with one vision to innovate the way brands are built, underpinned by one set of values–collaborative, agile, pioneering, responsible, ambitious, with a clear focus on diversity to drive innovation, and 4) Ensuring efficient and optimal utilisation of capital– with a particular emphasis on acquisitions which are high growth, add strong capabilities and are integrated into our business to drive higher long-term growth. In 2016 we signed 45 deals making us the most acquisitive holding group. In fact, the acquisition of Merkle, announced in Q3 2016 was the largest in both the industry globally, as well as the biggest that the Dentsu Aegis Network has ever made. This acquisition marked a step-change for our Group providing immediate scale, talent and new capability in high quality data, analytics and CRM.
Strategic Priorities
Grow revenue and scale in high-growth segments
Transform our proposition and service offering through innovation
Create a data platform and analytics suite
Grow new business and international clients
Drive new models in content and media value chain
Build scalable systems and platforms
By retaining our focus on these key strategic objectives, we will continue to build on our momentum and help our clients to optimise every aspect of marketing to drive value and results.
Data is the source of competitive advantage/currency of business
The Dentsu Aegis Network recognizes data as a source of competitive advantage for our clients. The business is pivoting to people based marketing, targeting "real individuals" rather than audiences. This will be enabled by M1, a people-based audience insights planning and activation platform developed by Merkle. We will leverage data to deliver competitive advantage to our clients. To do that we have invested in innovation, data platforms and prime data capabilities. We are prioritizing data governance across our global operations with a robust approach to privacy and protection.
This focus on data driven solutions will enable our business to provide addressable solutions, delivered in real time driving better consumer engagement through to transaction. Ultimately enabling us to deliver different and better solutions for the digital economy to drive superior brand growth for our clients.