CSR Medium-term Strategy Material Themes
CSR Medium-term Strategy Material Themes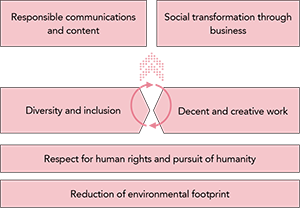 The Dentsu Group promotes activities based on its Medium-term CSR Strategy 2020, which establishes four key areas and common goals in Japan and overseas aimed at the realization of a sustainable society.
As global social issues become increasingly complex, and in light of its social responsibilities and the demands of stakeholders, the Group has formulated six material themes to help it contribute to the realization of a sustainable society.
Respect for human rights and pursuit of humanity
Initiatives for respecting human rights and pursuing human potential, and to realize a better future and higher ideals.
Formulate a Group Human Rights Policy and disseminate internally.
Create a system for supplementing and enhancing human rights due diligence.
Use e-learning for human rights training in Japan.
Decent and creative work
Mechanisms and initiatives for realizing workstyles enabling a diverse array of human resources to maximize employees' performance.
Occupational safety and health: Improved and comprehensive labor management, level and efficient operations, employee health maintenance and care.
Creative work: Diverse workstyle options, vitality design and self-development.
Support organizational and individual growth: Growth support program, organization revitalization measures.
Reduction of environmental footprint
Initiatives for minimizing the environmental impact on the Earth through Dentsu Group business aiming for a sustainable environment.
Reduce GHG emissions and transition to renewable energy. Reduce GHG emissions 24% by 2030 under Scope 1 and 2 (Groupwide compared to 2014).
Reduce business trip-related emissions per employee 25% by 2050 under Scope 3 (Groupwide compared to 2014).
Launch effort to stop use of plastic straws and food packaging at business offices in Japan to address the marine plastic problem.
100% elimination of plastic straws and food packaging at business offices in Japan by 2022.
Responsible communications and content
Initiatives for attaining sincere and highly ethical standards within services provided to Dentsu Group stakeholders.
Responsible communications: Awareness based on creative principles and checklists.
Trustworthy media content: Contribute to the creation of a structure and mechanism that creates a healthy industry.
Cyber security and privacy: Create a system for preventing risk events and deploy measures.
Sustainable supply chain: Create and manage a supply chain management structure.
Diversity and inclusion
Initiatives related to the creation of an organization and mechanisms including those related to decision-making to enable the active participation of a diverse array of human resources and maximize value creation.
Initiatives aimed at increasing the ratio of female managers.
Aim to increase the ratio of female managers to 10% by 2020.
LGBT initiatives Maintain Work with Pride "PRIDE Index" Gold Medal. Initiatives for people with disabilities.
Social transformation through business
Initiatives for promoting social transformation conducted with the aim of realizing a sustainable society
Develop mechanisms to create and promote internal systems.