Decent and Creative Work
Dentsu Group Initiatives

The Dentsu Group is promoting mechanisms and initiatives aimed at enabling all members of its diverse human resources to work in ways that allow them to perform to the best of their abilities.
Working Environment Reforms
The mental and physical health of its employees are at the core of Dentsu's management values. Reflecting this, in November 2016 the Company set up the Dentsu Working Environment Reforms Commission. The aim was to reduce the number of hours employees worked and improve the quality of their work.
In July 2017, we announced the Working Environment Reform Plan for Dentsu Inc., which was compiled by management and employees. Over the two years since the plan's adoption, we have introduced more than 100 measures, primarily based on the plan's pillars of comprehensive labor management and enhanced worker protection; "work diets," based on reviews of work inventory and improvement in business processes; and an enhanced health management system.
The efficacy of these measures has been verified through monitoring, conducted by the Independent Advisory Committee for Labor Environment Reform Activities, which comprises external third-party experts.
In terms of labor management, we have appointed human resource managers and made it possible to see working conditions on the Time Management Dashboard.
Further, in terms of leveling workloads and improving efficiency, we have promoted "work diets" and outsourcing, at the same time implementing measures such as conversion to robotic process automation. As a result of these efforts, the total number of hours worked annually per employee came down to 1,952 in FY2018, from 2,166 in FY2016.
In addition, in FY2018, the annual utilization rate of paid leave per employee rose to 66.0%, from 56.0% in FY2016, while the total number of paid leave days taken per employee was 21.4* in FY2018, verses 12.4 two years earlier.
Other measures we adopted in FY2018 include Vitality Note, a program that allows employees to check their health daily using their PC; and Input Holidays, which program ensures the entire company takes a nonstatutory holiday once a month.
We plan to promote comprehensive reforms and make up for the reduced working hours by improving the quality of work, as we set our sights on reflecting such societal trends as changes in legal regulations related to work styles.
*Including Input Holidays
Diversification of Work Styles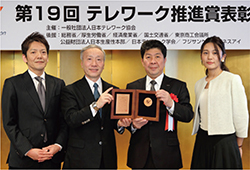 Telework Promotion Awards ceremony
In accordance with its promotion of work style diversification, in FY2018 Dentsu Inc. took a number of steps, including the introduction of flextime and the work-from-home system, as well as the use of satellite offices.
The percentage of employees who used flextime rose to 92% in FY2018, versus 22% in October 2017. Since the work-from-home system was launched in October 2017, it has been used by an average of 720 employees per month. Meanwhile, a monthly average of 405 employees have utilized our satellite offices for an average of 740 hours per month since they were launched in July 2017.
The Japan Telework Association awarded us an honorable mention in the Telework Implementation category of its 19th annual Telework Promotion Awards, in recognition of our initiatives to promote telework.