Message from the Chairperson of the CSR Committee
Message
Message from the Chairperson of the CSR Committee
Engaging with Society to Create New Added Value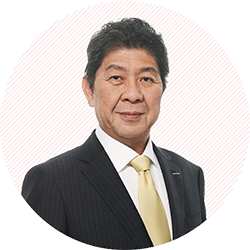 With the rapid development of the digital economy and the increasing severity of social issues, such as global environmental problems, the societal environment surrounding the Group continues to undergo drastic changes. These changes have a significant impact on consumers.
In June 2019, the G20 Ministerial Meeting on Energy Transitions and Global Environment for Sustainable Growth presented an action plan addressing climate change, the loss of biodiversity, resource efficiency, as well as sustainable consumption and production.
If these social issues are not resolved on a global level, companies will be unable to achieve sustainable growth. Thus, it is necessary for companies to seek new relationships with society.
Amid these conditions, the Dentsu Group is undertaking structural reforms to enable rapid decisionmaking from a medium- to long-term perspective. Having made the decision to transition to a pure holding company structure in 2020, one of the steps toward this objective involves flexibly responding to changes in the business environment as a unified Group.
I believe the marketing and communications areas in which the Dentsu Group conducts business involve a greater social mission, since they link companies and consumers. With an awareness of the magnitude of the social impact of the unfolding societal changes, we established priority CSR areas with themes such as respect for human rights and environmental protection. At the same time, the Group is proactively engaged in achieving the Sustainable Development Goals (SDGs) as set by the United Nations in 2015.
Voluntary activities related to the SDGs are on the rise, including employees taking the initiative to start up Group-wide project teams, holding seminars to raise awareness among individual employees, and conducting SDGs penetration surveys in Japan.
According to our survey conducted in February 2019, a general awareness of the SDGs in Japan is still only 16%, but I am sure that the promotion of initiatives related to various stakeholders will gradually increase this ratio. Through the steady promotion of the SDGs -related activities, I believe that every employee will have an opportunity to create new added value by considering their own social value and how they can work for the benefit of society.
The ideas and concepts created by Dentsu Group employees are our core competence. This has remained unchanged over time. We will respond flexibly to changes and continue taking on new challenges so that we can create new added value and make society richer and more fulfilling through our relationship with it.