Community
Dentsu Group Initiatives

Recognizing that local communities are important stakeholders, Dentsu is expanding those of its community activities and contributions to society that help develop regional communities and resolve issues they face.
Dentsu is fulfilling its role as a leader in the sphere of communications by building trust-based relationships with regional residents. These relationships are built in a number of ways, including through direct employee involvement in volunteer activities.
Community Activities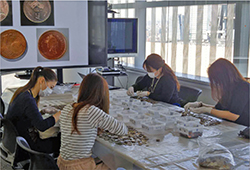 Volunteers sort
coin-based foreign currency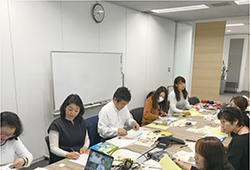 Participants work to deliver picture books
to underprivileged children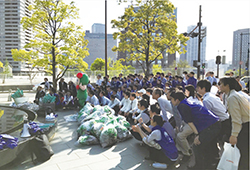 Participants in the Nakanoshima-West
Major Clean-Up Operation gather for a photograph
As volunteers, we are taking part in foreign currency coin sorting led by the NPO Habitat for Humanity Japan.
Donation boxes set up at international airports in Japan are filled with paper money and coins from all over the world. The money is sorted and exchanged for its US dollar equivalent.
This money is used to support afforestation projects in Southeast Asia and to improve the living conditions of local children. Dentsu started taking part in the coin sorting in 2017. In 2018, it held two sessions at its corporate headquarters in Tokyo, where 39 employees took part.
Since 2018, we have also helped in the picture book drive organized by the Shanti Volunteer Association. This drive involves the affixing of seals, with text in a number of languages, on the pages of picture books published in Japan. The books are then delivered to children in parts of Asia impacted by conflict or poverty.
At its corporate headquarters in Tokyo, Dentsu held two sessions of this book drive, in which a total of 74 employees inserted seals with translated texts into picture books. In 2019, sessions will also be held at Company branches in the nation's Kansai and Chubu regions.
In April 2018, in an effort to deepen its relationship with the local community, the Kansai branch office that in November 2017 had relocated to Nakanoshima, Osaka, teamed up with Group companies. Together they took part in the Nakanoshima-West Major Clean-Up Operation, designed to make ecological and aesthetic improvements in the area.
A total of 31 Dentsu employees worked together with employees from other participating companies to pick up garbage around the community.
Digital Technology Gives Children Confidence, Hope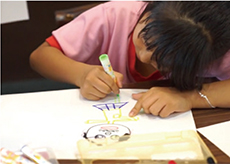 Through the Dentsu Aegis Network Taiwan and with help from other supporters, we are expanding Fly! Showmei*. We have been conducting this CSR activity for three years in the Taiwan village of Laomei, famous for the Laomei Green Reef located at its northernmost tip.
Fly! Showmei supports Laomei's less-than-optimal education by using digital technology to provide local children with opportunities to showcase their creativity and individual abilities. As part of the program, we colored in pictures children had painted on the walls of local buildings; produced video content for which the children provided the narration, explaining the pictures and introducing Laomei; and set up eight locations within the community where this content could be viewed via smartphone.
In addition, we gave the children the opportunity to experience VR content, created based on picture books that they had authored themselves. This initiative attracted much attention, with related videos receiving 5.2 million views on social media. We believe that, through Fly! Showmei, we can provide children with confidence and hope. At the same time, we expect it will lead to major reforms in the region.
*Showmei: A nickname for the children living in Laomei